Polish firm says it 'does not process horse meat'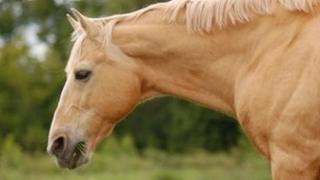 The Polish abattoir linked to beef found in Newry that contained horsemeat, has said it does not process equine products in its factories.
Labels apparently belonging to the company called Food Service near Warsaw were found on 12 pallets of frozen meat that ended up at Freeza Meats in Newry.
Freeza Meats said it had been storing the meat for a third party and that none had entered the food chain.
Food Standards Agency testing found some of it contained 80% horsemeat.
The quarantined meat has now been moved from Freeza Meats to an independent cold store.
A spokesperson for Food Service said the Polish firm did not "process, slaughter, debone, process, pack or freeze any equine product".
"Food Service is a reliable, trustful supplier to many companies throughout Europe and puts the utmost attention to its customer care," the spokesperson said.
"Clarifying the situation with the horse DNA found in burger products in Ireland and the United Kingdom is also of the interest of Food Service Company."
'Potential criminality'
Meanwhile, it has emerged that the prospect of a police investigation into the horse meat situation has moved a step closer.
Police officers have met with environmental health officials from Newry and Mourne District Council and representatives of the Food Standards Agency (FSA) in Belfast.
It is understood the purpose of the meeting was to help the police assess any potential criminality and whether they should begin a formal investigation.
The Northern Ireland assembly is also monitoring the situation.
A joint meeting of the health and agriculture committees has been called for next Tuesday to which environmental health officers from Newry, and representatives of the FSA as well as department of agriculture officials have been summoned.
The FSA has ordered UK firms to test all processed beef foods to verify the ingredients.
The coalition government's environment secretary Owen Paterson is to hold a summit with heads of meat retailers and suppliers on Saturday.
'Consumer trust'
Sinn Fein MEP Martina Anderson said she had contacted the EU commissioner for health, Tonio Borg, to ask what measures he and his colleagues intended to take to investigate the growing scandal.
"The commissioner has already conceded that the discovery of horse DNA in beef burgers is a breach of EU food labelling laws, now it has been discovered in a leading brand of beef bolognese," she said.
"I look forward to hear how this infringement will be addressed when the origin of the problem is confirmed.
"Although I have been told that horse meat is safe for human consumption, it remains that there has been a serious breach of consumer trust which must not be allowed to go unchecked.
'Raft of legislation'
DUP MEP Diane Dodds has expressed concern that the scandal will adversely affect local farmers.
"Unfortunately in this case I think farmers in Northern Ireland will foot some of the cost for these latest revelations, which is unfair given that they have played no part at all in these developments," she said.
"The retail and processing sector must be asked the reasons behind sourcing meat and processed foods from outside the UK."
Mrs Dodds said it was important to understand why retailers were not getting their meat from local farmers who "adhere to a raft of legislation and quality assurance schemes which are designed to protect the consumer".
"This situation has highlighted the intra-dependence of the industry, as farmers rely on processors to maintain high standards and vice versa.
"If something does come to light which knocks consumer confidence, everyone is affected as a result," she said.
'Vindicated'
Newry and Mourne District Council's environmental health department confirmed on Friday that the results of further DNA tests on products made at Freeza Meats were found to be free from non beef DNA.
"These samples have come back completely clear and the quality of our products and processes are again vindicated, " a spokesperson of Freeza Meats said.
"We hope this assures customers and the public that we have adhered to the highest standards of practice as a processor in the meat industry."
The firm has called on the meat processing industry and politicians across the UK, Ireland and Europe to "get to the bottom of this issue immediately as being irresponsibly implicated in this issue has put at risk the livelihoods of almost 50 staff in Freeza Meats and the industry as a whole".