Border poll would be a distraction says Sammy Wilson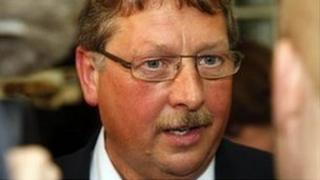 The DUP MP Sammy Wilson has said he believes holding a border poll in the near future would be a distraction from the many problems Northern Ireland has to tackle.
The DUP has said it is considering whether to "call Sinn Fein's bluff" over a border poll.
Sinn Fein is pushing for a border poll.
Mr Wilson told BBC Inside Politics that while the party has yet to establish its position, he is not convinced a referendum would be a good idea.
"Personally I think it would be a distraction, but I don't fear it," he said.
"In fact, I would relish the opportunity to make the pro-union case, but I think that there are many other problems that we need to address."
In January, his party colleague Arlene Foster said the party may support Sinn Fein's campaign for a referendum on Irish unity.
Arlene Foster told BBC Radio Ulster's Stephen Nolan Show she had held discussions with senior DUP figures, including party leader Peter Robinson.
She said the feeling was a pro-union vote would consolidate Northern Ireland's position within the UK.
Previously, the DUP has said that a referendum on a united Ireland would be a "waste of money".
A BBC Spotlight poll published this week strongly indicated that voters in Northern Ireland would reject a united Ireland in a border poll.
The Good Friday Agreement contains a provision for a border poll.
The power to trigger such a referendum does not reside with the Stormont parties, but the secretary of state.
However, Theresa Villiers' office has said she has no plans to call for such a referendum.
A border poll was last held in Northern Ireland in March 1973. It was largely boycotted by nationalists.
Irish Prime Minister Enda Kenny has said he does not believe a poll should be held in the near future.
You can hear Mr Wilson's interview in full on Inside Politics on Radio Ulster at 18:05 GMT on Friday. The programme is repeated again on Sunday after the 12:00 GMT news.