Basil McCrea: 'No knee-jerk' reaction to formal warning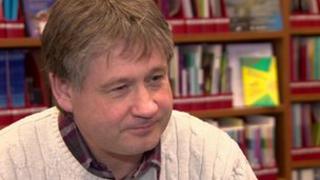 Lagan Valley assembly member Basil McCrea has said he is taking time to consider his response to a formal warning from the Ulster Unionist Party's disciplinary panel.
Mr McCrea was found guilty of indiscipline after two complaints were upheld. He now has the right to appeal.
But he said he would not be making any "knee-jerk reaction".
"I want to consider what the various options actually are and I have reached absolutely no conclusions," he said.
"These things are best mulled over, discussed," he told the BBC.
"We need to find the right way forward and it's important for the people of Northern Ireland that we find a message that actually conveys what we mean."
Mr McCrea lost the party whip in December after he publicly criticised the UUP's handling of the controversy surrounding the union flag protests.
The other matter which was the subject of the hearing related to comments he made on the BBC's Nolan Show.
A disciplinary hearing was held by the Ulster Unionist Party last week.
Mr McCrea was found guilty of indiscipline and of speaking in a manner that was detrimental to the party interest with regard to his remarks on the Nolan Show.
Regarding the second complaint, referring to Mr McCrea's comments about a possible assembly commission consultation over the union flag, the committee considered Mr McCrea guilty of a public attack on party policy and consequently of a further act of indiscipline.
On Saturday, Mr McCrea said: "I have the right of appeal, the party have made that quite clear.
"It's a balance as to whether that actually progresses matters in a positive way or not."
He said all political parties had members whose opinion differed, but it was "important to work out how to express the opinion".