Philippa Reynolds: Tributes paid to police officer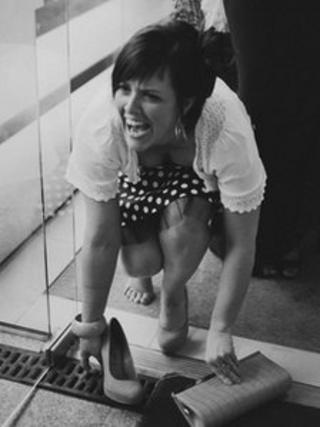 Tributes have been paid the police officer Constable Philippa Reynolds, who died in a crash involving a stolen car in Londonderry on Saturday. The 27-year-old from the greater Belfast area, was a former teacher who had joined the PSNI (Police Service of Northern Ireland) two years ago.
Ch Supt Stephen Cargin
"She was a young 27-year-old officer, just two years' service, in the prime of her life, doing what she loved to do - and that was serving the community to the best of her ability," he said.
"Her colleagues are devastated, as I am as her commander, as we all are as a police service.
"She was enthusiastic, bubbly and had a beautiful personality.
"She was just loved by her colleagues and she turned that love to the community she served."
President of Owls Hockey Club Rosie Rea
"She was a keen hockey player and had captained Owls second eleven team," she said.
"She just always was very active and very encouraging. She'll be sorely missed.
"It's a terrible thing that's happened to her and to her family. All the girls are devastated.
"There's wide support in the hockey world, lots of clubs have contacted us and given their commiserations and we appreciate that very much."
Principal Kilkeel High School David Cunningham
"Philippa taught for a while before joining the PSNI," he said.
"She was a very pleasant girl, very popular with the pupils, great bubbly personality.
"She was also a hard worker and a very keen hockey player.
"I've had a number of phone calls and the school community is very saddened to learn of her passing especially in such tragic circumstances.
"Our sympathies are very much with her family and friends at this time."
First Minister Peter Robinson and Deputy First Minister Martin McGuinness
"This is devastating news and we want to extend our heartfelt sympathies to the police officer's family, friends and colleagues.
"We wish her two police officer colleagues a speedy and full recovery.
"Officers in the PSNI put their lives at risk on a daily basis to serve and protect our community and we are all truly grateful for their dedicated service."
NI Secretary of State Theresa Villiers
"This is a tragic waste of a young life in sad and reckless circumstances.
"Constable Reynolds died as she went about her job keeping people safe in the community she served.
"I send my sincerest condolences to her bereaved family and colleagues. And I wish the two insured officers a full and quick recovery."
Bishop of Derry and Raphoe Ken Good
"The whole community is shocked at the tragic death of PSNI Constable Philippa Reynolds, whose life was cut short in the early hours of Saturday morning.
"On behalf of the diocese, I want to express our heartfelt sympathy to Constable Reynolds's family and to her colleagues in the PSNI.
"This tragic incident reminds us all of the courageous service which the PSNI performs for us. We are deeply grateful to them for all they do."