Horsemeat: Villiers says 'robust steps' needed to restore confidence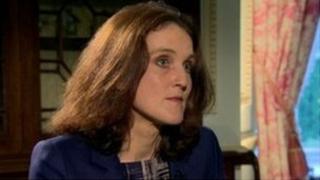 Northern Ireland Secretary of State Theresa Villiers has said "robust steps" need to be taken to restore public confidence following the horsemeat scandal.
She made the remarks following a meeting with Ireland's Minister of Foreign Affairs Eamon Gilmore.
"People should be able to have absolute confidence in the food they are buying," she said.
The controversy has now been ongoing since January.
"The UK government recognises the vital importance of the agri-food industry not only to the economy of Northern Ireland but to the whole island of Ireland," she said.
Ms Villiers said: "It is essential that we all work as closely as possible to ensure that everything is done to deal with the problem of horsemeat in processed beef products.
She said steps would be taken to restore public confidence.
"If there are practices that undermine that confidence, or if there is any evidence of criminal conspiracy, then we need to take robust steps to tackle that.
"I plan to continue to work closely with all involved, including the devolved administration in Northern Ireland, over the coming days."
In mid-January, Irish food inspectors announced they had found horsemeat in some burgers stocked by a number of UK supermarket chains including Tesco, Iceland and Lidl.
Two weeks later, pig DNA was found in supposedly halal products for Muslim prisoners.
A number of firms in Northern Ireland and in the Republic have been implicated in the scandal.