Farry announces changes to student cash support scheme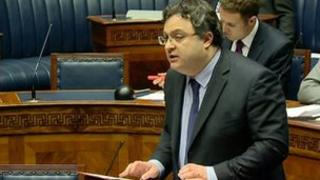 Northern Ireland Employment and Learning Minister Stephen Farry has outlined changes to the scheme that supports students in school or college.
Mr Farry told the assembly that the Education Maintenance Allowance (EMA) would be better targeted in future to those most in need.
Among the changes is the scrapping of weekly payments of between £10 and £20.
A single payment of £30 a week will be paid to students from low income households.
The EMA was introduced in 2004 by the Department of Employment and Learning and the Department of Education.
Mr Farry said the move was intended to encourage students from lower income backgrounds to stay in education.
"I can advise the assembly the scheme should be targeted towards families in need," he said.
No longer eligible
"I propose removing the £10 and £20 bands and having a weekly £30 payment for households with an income of £20,500 or less with one dependent child or £22,500 with two or more dependents."
In response to a question from the DUP's Thomas Buchanan, Mr Farry said this would mean 4,000 recipients of EMA would no longer be eligible.
However, he said he expected the eligibility for the £30 band rise to increase by a similar amount by 2014/15.
The minister said responses to a public consultation process had shown that there was a support for retaining bonus payments as they provided young people with an incentive.
These will be reduced to £200 per year and will be funded by a transfer of resources from the Department of Education and partly by the Department for Employment and Learning.
Sinn Fein's Phil Flanagan called the review of EMA "flawed".
The DUP's Alastair Ross said EMA reforms were needed if a public consultation showed that more than 60% of students receiving EMA indicated that they would have remained in education even if they had not received it.
Adrianne Peltz of the NUS-USI student movement said the news represented "a far better deal than the options outlined in the government consultation".
"This announcement means EMA is safe and will still deliver a very strong level of support for students in most need of assistance," she said.
"This positive deal for students has been delivered by the activism of students themselves."