Larne Lough gas scheme 'needs other consent'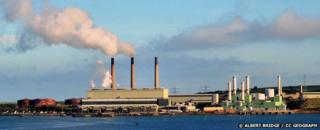 A planned gas storage facility under Larne Lough is far from signed and sealed, a public meeting has been told.
Environment Minister Alex Attwood announced planning approval for the £400m project last October.
If completed, imported natural gas will be stored in seven excavated caverns, allowing storage for enough gas to satisfy NI's energy needs for 60 days.
But there have been hundreds of complaints about the development from residents and environmentalists.
They are concerned about the concentrated salt water, a by-product of the construction process, being pumped into the sea.
Billy Johnson from the Larne Shellfish Producers was at the public meeting held in Larne on Monday evening.
"It's big business and it's difficult to fight it and unfortunately our government agencies will say it's in the national interest - so what I am saying is, if it does go ahead let's make sure we get the best protection we can," he said.
Around 100 people attended the meeting which was addressed by officials from the Department of Environment's marine division and the Northern Ireland Environment Agency.
Most people in attendance were against the development going ahead in any shape or form, including local resident Stan Adams.
"I am saying to people on the panel, you are from Northern Ireland and you could be helping to ruin this part of the world," he said.
The company behind the project, Islandmagee Storage Limited, was not at the meeting but it said that deep underground storage was one of the safest and most environmentally responsible methods of storing large amounts of gas.
When announcing planning approval for the project, the Environment Minister Alex Attwood said he was satisfied that the environment could be protected.
But the process for agreeing safeguards and analysing the possible impact is only beginning.
The company is paying for modelling on the likely effects of the salt water discharge - modelling which will be independently reviewed.
All of this is required before the Department of the Environment (DOE) grants the necessary licences for the project to proceed.
Separate licences will also be required from Geological Survey Northern Ireland and the Health and Safety Executive.
Claire Vincent from the DOE's marine division said: "It's unfortunate that in October 2012 a press statement was made that planning permission had been approved for this proposal.
"Although that is absolutely true - it is only part of the picture because there is a number of other consent required before this proposal can go ahead... so we are really only at the start of this process," she said.
Islandmagee Storage Limited said it has had several public information events and plans to have more in the coming months.
It will also be meeting with the key stakeholders and representatives of the residents later this week.
The petrochemical giant BP is funding the activity necessary to develop the project which will include the drilling of a test borehole.