DEL committee challenge Farry over education comments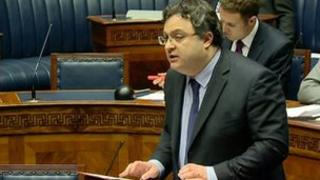 The employment committee has requested its minister, Stephen Farry, appears before it to discuss comments he made in the Assembly on Tuesday.
Mr Farry raised concerns about changes to the Education Maintenance Allowance (EMA).
The scheme supports students staying in education after the age of 16.
He told MLAs he was amazed many "critically important" decisions by the Department of Employment and Learning (DEL) had not been scrutinised.
Committee chairman Basil McCrea said he would write to Mr Farry for more detail on this.
"I'm not aware of any critically important issues that we have not dealt with," he said.
"The minister seems to be suggesting that we weren't being responsive to things that were important and I can tell you, on behalf of the staff, I've checked and I think we have accommodated every single request."
SDLP Foyle MLA Pat Ramsey said the minister's comments "were out of order".
"His behaviour (in the Assembly) was very disrespectful, not just to the chair, but to all members and staff and I felt them very derogatory," he said.
Cathie White, the committee's clerk, said normal procedures for interaction between a government department and its committee on a public consultation process "did not happen" in respect of EMA.
Incentive
The EMA was introduced in 2004 by the Department of Employment and Learning and the Department of Education.
Mr Farry said the move was intended to encourage students from lower income backgrounds to stay in education.
Among the changes is the scrapping of weekly payments of between £10 and £20.
A single payment of £30 a week will be paid to students from households with an income of £20,500 or less with one dependent child or £22,500 with two or more dependents.
Mr Farry said this would mean 4,000 recipients of EMA would no longer be eligible.
However, he said he expected the eligibility for the £30 band rise to increase by a similar amount by 2014/15.
The minister said responses to a public consultation process had shown that there was a support for retaining bonus payments as they provided young people with an incentive.
These will be reduced to £200 per year and will be funded by a transfer of resources from the Department of Education and partly by the Department for Employment and Learning.