A5 scheme 'not properly assessed', court told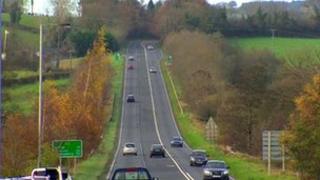 The economic and agricultural consequences of a new £330m dual carriageway project were not properly assessed, the High Court has heard.
Lawyers for a group seeking to block the scheme claimed the impact on farming businesses was inadequately considered.
The scheme forms part of a proposed key cross-border business route linking Dublin and the north-west.
The group's lawyer contended the process was unfair.
Farmers, businessmen and landowners have joined together under the Alternative A5 Alliance grouping in a legal challenge to the planned stretch of dual carriageway between Derry and Aughnacloy, County Tyrone.
Uncertainty now surrounds the overall project after the Irish government downgraded funding due to its tough economic circumstances.
Judicial review proceedings centre on the decision to press ahead with two sections of the route, for which the Stormont Executive has approved £280m.
Work on the dual carriageway has been put on hold due to the legal intervention.
The legal team for the Alliance claim it is now a different project, and that no proper environmental impact assessment (EIA) has been carried out.
The barrister said: "As well as a deficient EIA there was no proper compelling case assessment and no proper human rights assessment.
"If you build a road of this nature through an agricultural area of this nature one would have thought... the Department (for Regional Development) would be anxious to ensure it gave particular regard to agriculture.
"It's not like we are going through southeast London and there may be a little urban farm, we are going through an area with a predominantly agricultural land use and one of historical and cultural importance for the people."
Questioned by Mr Justice Stephens, the barrister confirmed his contention that a full economic appraisal was not carried out.
He also claimed there was not enough analysis of the impact on other areas of work that could be affected.
"All the different types of business that relate to farmers: abattoirs, meat plants, vets, creameries, agricultural suppliers and fertilisers," he said.
"The various secondary businesses which should be affected but which were not assessed."
The hearing continues.