Invest NI briefing on flags protest impact cancelled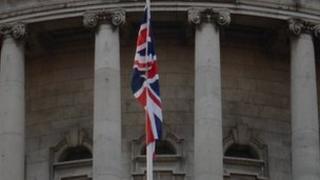 Invest NI will not be addressing an assembly committee on the impact of the union flags protests on the local economy on Thursday as planned.
The organisation's director of international investment was to have addressed he enterprise committee.
However, committee chairman, Patsy McGlone, said minister Arlene Foster had indicated she would like to brief the committee on the matter herself.
He said she had withdrawn the Invest NI official as a result.
Mr McGlone said he wanted to arrange a meeting with the minister at a later date "given the nature of the issue and given the concerns which have been expressed within the community".
"There seems to be a wee bit of nervousness at Invest NI about how to deal with this," he added.
In January, NI Secretary Theresa Villiers warned that riots linked to flag protests were causing "significant damage" to the economy.
She said the "negative images" were "threatening jobs" and urged politicians to find a way forward.
On 3 December Belfast City councillors voted to limit the days the union flag flies over Belfast City Hall.
The campaign of street demonstrations started in December.
Some of the protests have been violent and resulted in more than 100 people being arrested and dozens of police officers sustaining injuries.
The cost of policing the flag protests is believed to be more than £7m.
The loyalists' central demand is for the decision to be reversed but the political make up of the council means there is little chance of that happening.