Mid Ulster by-election: Lutton chosen as unionist candidate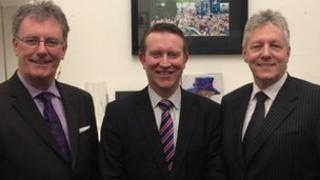 The son of a murdered RUC reservist has been selected as the single unionist candidate to contest the Mid Ulster by-election.
Nigel Lutton's father Frederick "Eric" Lutton was killed by the IRA in May 1979.
Sinn Fein has selected Francie Molloy to stand in the seat.
In 2007, the DUP MP David Simpson used parliamentary privilege to name Mr Molloy as having been suspected of involvement in the killing.
Mr Molloy has always denied involvement in the killing.
The by-election on 7 March was called to replace Martin McGuinness.
The DUP and UUP constituency associations held separate meetings on Thursday evening.
They unanimously endorsed Nigel Lutton as their candidate.
The SDLP candidate will be Patsy McGlone.
Independent Unionist William Frazer, the victims campaigner, has also expressed an interest in contesting the race.
Frederick "Eric" Lutton, 40, a former part-time member of the RUC reserve worked as a caretaker for the National Trust.
He was killed as he got out of his car to lock the gates of their premises in Moy, County Tyrone.
No-one has ever faced charges for the killing.
In a statement on Thursday, DUP leader and Northern Ireland First Minister Peter Robinson said the decision would be "welcomed by tens of thousands of unionists in both the Mid-Ulster area and more generally throughout Northern Ireland as a common-sense response to the demands to see unionists co-operating together".
Ulster Unionist Party leader Mike Nesbitt MLA said they had "listened carefully to the many pro-Union voters in Mid Ulster who were calling for co-operation in this election and for the opportunity to end the long drought that has seen Mid Ulster without representation in the House of Commons for 16 long years".