Mid Ulster by-election: Make allegations in public, says Molloy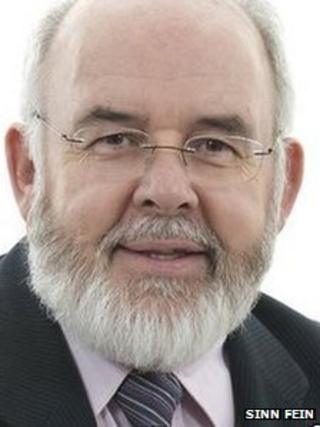 Sinn Fein's candidate in the Mid-Ulster by-election has challenged anyone who wants to make any allegations about him to do it in public.
Francie Molloy was commenting after a man whose father was murdered by republicans was selected as a unionist unity candidate in the 7 March poll.
In 2007, DUP MP David Simpson used parliamentary privilege to name Mr Molloy as having been suspected of involvement in the killing.
Mr Molloy has always denied this.
Nigel Lutton was selected as the single unionist candidate in the by-election by the DUP and UUP on Thursday evening.
His father, Eric, a former police reservist, was killed by the IRA in May 1979 as he got out of his car to lock the gates of the National Trust premises, where he worked, in Moy, County Tyrone.
No-one has ever faced charges for the killing.
On Friday, Mr Molloy said anyone who wanted to make claims about him should not do it "under the cloak of parliamentary privilege".
He said he had known Eric Lutton and called his death a "tragedy", but said people needed to look forward.
Asked if he condemned the killing, Mr Molloy said: "All murder is wrong".
He was then asked if he was prepared to shake Nigel Lutton's hand. He replied: "Of course I would. I will shake the hands of anyone."
The by-election on 7 March was called to replace Martin McGuinness.
The SDLP candidate will be Patsy McGlone.
Independent Unionist William Frazer, the victims campaigner, has also expressed an interest in contesting the race.