Glen Mawhinney pleads guilty to having child porn but escapes jail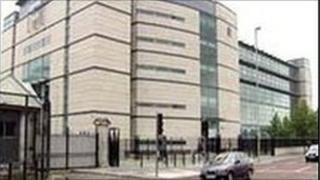 A man who pleaded guilty to downloading child porn has escaped jail and been given three years on probation.
A judge told Glen Mawhinney he believed the protection of the public would be best served by his rehabilitation.
The court heard the 30-year-old from Belfast's Titanic Quarter had not recovered mentally from an assault as a teenager.
Mawhinney downloaded more than 3,000 images.
He pleaded guilty to downloading and possessing images of child pornography and images of extreme porn from 2007 until 2010.
Mawhinney was also put on the Sex Offenders' Register and made the subject of a Sexual Offences Prevention Order, both for five years.
The judge said he considered Mawhinney's was an "exceptional case allowing him to take this exceptional course", but warned that any breach would result in an immediate period of custody.
He said that to jail Mawhinney now would only serve to confirm his self-loathing and his desire for punishment, but upon his release would do nothing to serve the public's need for protection.
A prosecution lawyer said that of the 3,825 images, the vast majority were in the lowest of category one, while there were also fewer than 20 still images in category four, just one scale down from the most serious category.
In addition there were four images of extreme porn involving adults, not children.
She added that while Mawhinney admitted to the police that he had viewed the material, there was no evidence he had distributed any of the images or obtained any financial reward.
She added that there was also no evidence of grooming involved.
The defence said that reports on the father-of-two showed that while Mawhinney may have recovered physically from a severe beating as a teenager, it had left him with a considerable personality change.
He said that although he was innocent, afterwards he saw himself "always as a victim who rightly deserved punishment, and with a desire to harm himself".
He said that a remorseful and shamed Mawhinney had been devastated by what he had done, and for which he had no real explanation.
He said reports also indicated a motivation to change and a willingness to do so by working with the authorities.