McCausland accused over Girdwood development plan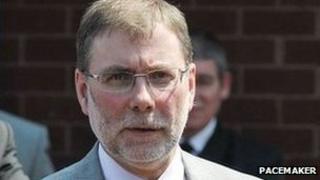 Social Development Minister Nelson McCausland has been criticised in court over plans for regeneration of a former army base in north Belfast.
Plans for 200 new homes on the Girdwood barracks site were approved by the then minister Alex Attwood in 2011.
However, these plans were later reversed by Mr McCausland who announced another proposal in 2012.
A lawyer for Mr McCausland rejected the allegations made in Belfast's High Court.
The court heard claims that Mr McCausland tried to block housing development on the former Girdwood Barracks site for improper political reasons and to counter the decline of Protestants in the area.
The claims were made as a nationalist single mother who has been on the social housing waiting list for 12 years won legal permission to mount a challenge to the scheme announced last May.
Her lawyers want the new plan quashed and declared unlawful for allegedly breaching equality guidelines.
A scheme announced under former SDLP Social Development Minister Alex Attwood in 2011 was to have involved building 200 homes on the site.
However, after Mr McCausland took office revised proposals were announced which would see sport and educational facilities in the area.
Housing numbers were also to be reduced, with the court hearing that 50 may be built.
Launching the judicial review challenge, a lawyer argued there was ample evidence that Mr McCausland made his opposition to the original plans known before he was appointed minister.
"The simple reason for the decision was he didn't want 200 Catholic families moving into this area," the barrister claimed.
"The minister's decision was motivated by improper collateral purposes: a restriction of the expansion of the Catholic population in north Belfast and to counter the decline of the Protestant population."
A lawyer who represented the minister in court, rejected the allegations of improper motivation.
He told the court the May 2012 decision was in line with the original masterplan five years previously, and that it was Mr McCausland's SDLP predecessors who had strayed from the blueprint.
"It was a perfectly proper act to stop what was considered to be out of step with the agreed proposals and reinstate something that was in keeping with them," he said.
He also said that housing provision was only one of the aims of regenerating the former army barracks.
Mr Justice Treacy granted leave to seek a judicial review after ruling that an arguable case had been established.
"This is a very important case and it raises interesting issues," he said.
A full two-day hearing was listed for June.