Protest causes Crusaders-Cliftonville game to be called off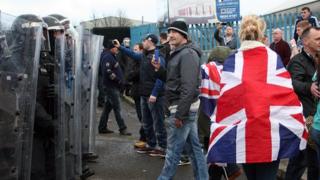 The Irish Premiership match between Crusaders and Cliftonville was called off on Saturday due to a loyalist protest outside the ground.
Police said they were attacked with bottles and other missiles after they began moving protesters at Seaview. Three arrests were made.
A small 'white line' protest had been allowed to take place for about 40 minutes.
Police moved it on to allow fans to get into the north Belfast ground.
The match was called off at 15:10 GMT because of safety concerns.
Most Cliftonville supporters and many Crusaders fans had been unable to gain access to the stadium.
A police spokesperson said: "Upon learning of the public disorder both clubs advised police that the game would not proceed.
"This is a regrettable outcome for the clubs, the many genuine fans who wanted to watch the match and indeed the wider north Belfast community."
'Sad day'
Crusaders chairman Stephen Bell said it was "a sad day for football".
"The football family need to hold together at this difficult time," added Bell.
Crusaders manager Stephen Baxter said the situation was "outside of their control".
"We were all prepared and ready for this game but we'll just have to get on with it and come back to play it another day," said Mr Baxter.
His Cliftonville counterpart Tommy Breslin described the postponement of the match as "disappointing".
"Win, lose or draw, we were just here for a game of football on a Saturday afternoon," he said.
"The clubs have co-operated closely in recent years and this will just bring them closer together again."
Sports Minister Carál Ní Chuilín said the protest had nothing to do with football and players and fans had been left frustrated.
"Now, instead of reflecting on a derby game featuring the top two teams in the league, we are looking back at a disheartening afternoon for everyone connected with the clubs," she said.
"Crusaders and Cliftonville, while rivals on the pitch, have forged many links in recent years and I trust the events of today will not derail those efforts."
Secretary of State Theresa Villiers said: "It is regrettable that an afternoon of sport was ruined by violent protests.
"Such behaviour achieved nothing except upset and disruption for fans and local residents who were looking forward to the game."