Cow birth keeps councillor Sandra Hunter late for meeting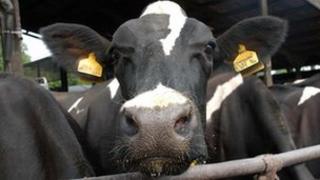 A County Antrim council leader has given the mother of all excuses for being half an hour late for an official meeting.
Sandra Hunter, chair of Moyle council, was delayed because she was helping one of her cows give birth to twin calves.
The 43-year-old councillor is also a full-time farmer who works alone on her 300 acre farm near Bushmills village
Cllr Hunter juggles her role as first citizen of Moyle with a busy day job, looking after hundreds of livestock.
The Ulster Unionist Party (UUP) representative has been a councillor for two years and was elected as chairperson last June.
Single-handed
Speaking to her local newspaper, the Ballymoney Times, Ms Hunter said: "As I said when I arrived at the council meeting I had a cow calving at home.
"I suppose you could say it is not the normal type of reason given for being late!"
She has helped her cattle give birth many times but said the birth of twin calves was a fairly unusual event.
She told the paper she had been "keeping an eye" on the cow as she prepared to go to the evening meeting, but when the animal went into labour with twins, she "could not take a chance" of leaving until the calves were delivered safely.
The UUP councillor grew up on her family farm on the Causeway Road and had worked there full-time with her father for more than 20 years.
However, following his death last year, she now runs the business single-handed, looking after about 150 cattle and 400 sheep.
Ms Hunter is one of four sisters, but said she was the only member of the family who was interested in taking over her father's farm.
She said she always had an interest in animals, and kept lamb and calves as pets when she was a small child.
She studied at Greenmount, one of Northern Ireland's agricultural colleges, before emigrating to New Zealand as a teenager, where she worked on farms for a year and a half.
'Man's job'
She came home to work on the family farm in 1991, and said that at the time there were very few women visible in the industry, attending livestock markets.
Ms Hunter said the numbers of female farmers have since increased, but added it was still considered "a man's job".
However, the councillor said she is "well able" for the role and her fellow councillors have been understanding about the unusual interruptions to official business.
The UUP representative said she took "a bit of slagging" about the role when she was first elected to the council two years ago, but added her council colleagues were getting used to it now.