New Fermanagh addresses cause TV licence confusion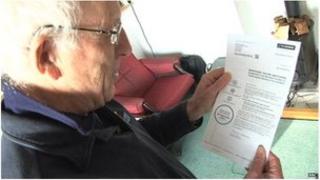 Hundreds of people in County Fermanagh have received letters warning them that they no longer have a TV licence.
The mix-up happened following the introduction of a new rural address system affecting 15,000 properties.
The new system means the properties have an official address for the first time.
TV Licensing have apologised for the letters and said they were issued because their systems did not recognise the new addresses.
The new system was adopted by the local council after many people in Fermanagh experienced problems getting credit checks or deliveries.
About 1,600 homes have received letters warning that they do not have a TV licence.
TV Licensing said many of the new addresses bear little or no resemblance to the old ones.
They claim that this means that their system has been unable to match the new address to the previous ones.
New addresses
Although the new addresses came into effect at the start of February, a further change by Royal Mail to postcodes will not be completed until the end of March.
Michael Clarke, who lives in the townland of Ardlougher near Irvinestown, has received a new house number, road name and townland and received one of the letters from TV Licensing.
Mr Clarke is pleased with his new address but annoyed with TV Licensing letter.
"I got a letter from TV Licensing to tell me that I was behaving in an illegal manner by watching television in my residence," he said.
"Suddenly this address becomes a place where you are not allowed to watch TV. I bought my first television licence for these premises in the spring of 1980 and I've been paying it ever since."
A spokesperson for TV Licensing apologised and said people who have a licence do not need to do anything - and that further checks have been put in place to correct the problem.
Eighty five road names have been changed and about 75% of properties have received a new street number.
Spelling of townlands has generated a large number of inquiries to the council, which had agreed to adopt spellings used on the Ordnance Survey map.
People who live in 180 homes in 17 townlands near Irvinestown and Ballinamallard who live in County Fermanagh have discovered that they are actually living in County Tyrone.
"For the first time the people in the rural parts of Fermanagh have an official address that will be included in databases and on all the search engines," said Desmond Reid, director of regulatory services at Fermanagh district council.
"This means if credit checks need to be carried out on behalf of people they will then be able to be found and be able to get mobile phone contracts, mortgages, credit cards etc which they couldn't up to now."
A spokesperson for TV Licensing said: "We are sorry for any inconvenience caused to our customers by the changes in address which have been introduced recently by Fermanagh District Council.
"Because many new addresses bear little or no resemblance to the old addresses the system has been unable to 'pair' them automatically. This means that both addresses can appear on our database - the old address with a valid licence against it and the new address which shows as an unlicensed property.
"We are working to resolve this issue as quickly as possible but we would like to let licensed customers know they do not need to respond to these mailings," they said.
"It is estimated 15,000 new addresses have been created across County Fermanagh following the recent decision of Fermanagh District Council to change the addresses of some rural properties.
"To date TV Licensing has received around 6,000 of the new addresses from Royal Mail and we are in the process of updating our database, matching the old addresses with the new ones.
"We would like to apologise for any inconvenience this has caused and reassure the residents we've put in place additional checks to ensure that as Royal Mail continues to provide us with the remaining address updates they can be correctly matched on our database, avoiding the need to unnecessarily contact our customers."