Princess Victoria disaster: Survivor John McKnight dies 60 years on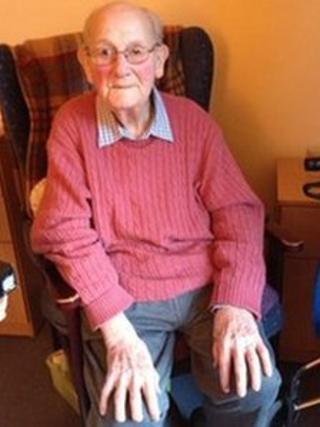 A County Antrim man who was one of the few remaining survivors of the Princess Victoria ferry disaster has died, 60 years on from the tragedy.
John McKnight, 92, died peacefully in hospital on Tuesday.
Mr McKnight was chief cook on board the ferry, which sank off the County Down coast on 31 January 1953 with the loss of 133 lives.
In recent weeks, he was interviewed by BBC Northern Ireland to mark the 60th anniversary of the disaster.
The car ferry, which was sailing from Stranraer, Dumfries and Galloway to Larne in County Antrim, sank in treacherous weather conditions.
Lifeboat
Among the passengers who perished were Northern Ireland's then Deputy Prime Minister, Major J M Sinclair, and Sir Walter Smiles, the Ulster Unionist MP for North Down.
Mr McKnight, who managed to climb into a lifeboat, was one of only 44 people who survived.
His next-of-kin, Shaun Linton, was with him when he passed away at Antrim Area hospital and said his long-time friend would be sadly missed in his hometown of Larne.
Mr McKnight, who spent a long career sailing on the Irish Sea, was too frail to attend the 60th anniversary commemorations in person last month.
However, he received a number of visitors to his care home in Larne on 31 January.
Subdued
Mr Linton said that ironically, it was on the day of the anniversary that Mr McKnight complained of feeling unwell. Days later he was admitted to Antrim Area Hospital where he died on Tuesday morning.
His friend described Mr McKnight as a kind and gentle man who, when asked to recall his personal experience of the disaster, always spoke in subdued, understated tones.
"There were no histrionics with him," Mr Linton said.
He said the pensioner had described a frightening dash from the upturned stern, along the keel, to the bow of the ferry where he had to jump into a lifeboat, suffering serious hand injuries as a result.
Mr McKnight, whose wife died seven years ago, spent the rest of his career working on board ships on the same Larne to Stranraer route.
Funeral
He gave Mr Linton his first job at sea, as a galley boy, and the younger man went on to have career as a merchant seaman. The pair remained friends ever since.
A funeral service for Mr McKnight is due to take place at St MacNissi's Church in Larne at 10:00 GMT on Thursday.