Nashville festival gives NI musicians a chance to shine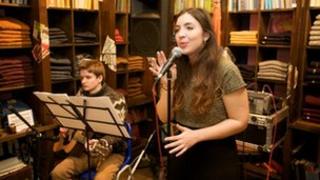 A taste of Americana has arrived in Northern Ireland with the ninth Belfast Nashville Songwriters festival.
More than 100 songwriters are performing at 50 events during a five-day programme that runs until Sunday.
Grammy award-winning artists Brett James, Nanci Griffith and Kristian Bush are among the leading performers, with musical genres ranging from country to traditional folk.
It is not just international artists who will be treading the boards however, as many talented Northern Ireland songwriters are also getting the chance to showcase their sound.
Local musicians Morgan McIntyre and Alana Henderson will join US country and folk star Nanci Griffith on stage at Belfast's Empire Music Hall on Thursday night for an In the Round concert.
Morgan, who was selected to support Joan Armatrading at the city's Grand Opera House last year, said she was looking forward to her second appearance at the festival.
"Last year I played an intimate gig at the Crescent Arts Centre with four local singers and it was mainly friends and family who were there with some local people from the area," she said.
"This year with Nanci Griffith will be different, I was just passing Botanic Avenue and there was a billboard poster up advertising the concert.
"I will be nervous, but I think that is good, I think it is about using that nervous energy in a positive way."
Brian Kennedy, Gareth Dunlop, Ursula Burns and Katharine Philippa are among the other Northern Ireland artists playing at the festival.
Other international performers include Kim Richey, Otis Gibbs, Tom Baxter and Then Jerico. A songwriting convention, featuring three days of workshops, runs parallel with the event.
Northern Ireland musician Ria Maguire performed with Nanci Griffith at last year's In the Round concert alongside Matt McGinn.
She is looking forward to her fourth appearance at the festival.
"Last year was awesome, absolutely brilliant," she said.
"I had listened to Nanci's music for years, so to share the same stage with her was an amazing experience.
"The thing I would say to the people performing with Nanci this year is believe in yourself and remember you are sharing something special with the audience.
"The festival is a great opportunity for musicians in Northern Ireland to showcase their songs and you can meet so many different people through networking."
Nanci Griffith is a regular at the festival and is renowned for helping young singer songwriters. She loves Belfast and says she comes to the festival every year as her "annual vacation".
At the height of the Troubles she wrote the song It's A Hard Life about a conversation with a black-taxi driver on the Falls Road.