Man accused of Graham, Dinsmore murders in Turkey admits killing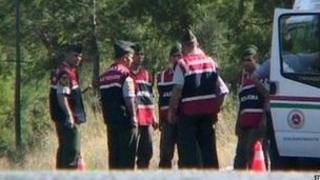 A man accused of murdering two women from Northern Ireland has told a court in Turkey that he killed them but claimed the women attacked him first.
Recep Cetin is accused, with his father Eyup, of murdering Marion Graham and Cathy Dinsmore, in August 2011.
The two women were found dead in a forest outside Izmir in August 2011.
In previous court hearings, Recep Cetin's lawyers had not disputed statements that he had confessed to killing the women.
Ms Graham, from Newry, County Down, and Ms Dinsmore, from Warrenpoint, suffered multiple stab wounds.
Eyup and Recep Cetin are being tried in a number of court appearances, held several weeks apart.
At the latest hearing, held on Wednesday, Recep Cetin admitted that he had killed the women, but claimed his father was innocent.
A lawyer for Recep Cetin claimed that the accused had been attacked first.
Lawyers for the defendants disputed evidence given in a previous hearing by a secret witness, who claimed to have seen the men near the place where the women's bodies were found.
The court agreed to a request by prosecutors that a survey of the crime scene should be carried out by police and the witness.
The survey will take place before the next hearing in the case, which has been scheduled for 20 March.
The court ordered that Recep and Eyup Cetin be kept in custody in the meantime.