Dan Cruickshank puts spotlight on architecture of Ulster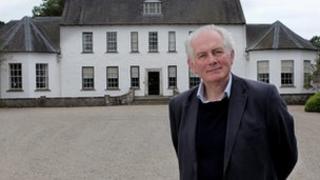 Dan Cruickshank may have gone around the world to seek out his 80 greatest man-made treasures, but a new television series for BBC Northern Ireland sees him finding some architectural gems closer to home.
From Sunday, the art historian will take viewers on a personal journey to explore some of Ulster's most remarkable buildings to "discover what they tell us about our past."
The series focuses on the nine counties of the historic province of Ulster.
Dan Cruickshank's Written in Stone features four themed episodes, Forts and Castles, Country Houses, Sacred Spaces, and City of Industry.
National importance
Each episode will see him examining how a particular style and form of building evolved through the influence of invasion, wealth, religion, and industry.
Dan said he hoped the series would lead more people to appreciate what was on their doorstep and believes many of the buildings featured in the series have great tourism potential.
"There is an awful lot for people to see," he said
"There are buildings of national interest and importance that are the best of their type in the British isles.
"Carrickfergus Castle is one of the best Norman castles which is largely still intact in the British isles," he said.
"Castle Coole is one of the best neoclassical country houses in the British isles and is a wonderful fusion of Irish and English architecture.
"The story of the buildings of Ulster is the story of the people who have lived on this land and left their mark on its history.
"And here history has left us with a remarkable legacy of buildings from ancient forts and mighty castles to prestigious public buildings and grand country houses."
Great ambition
Dan said he had been travelling back and forth to the area for 30 years, but still found plenty of interest.
There were contrasts as well.
"I enjoyed a lot of Belfast and it has great buildings, but I was sorry to see a large part of Jennymount Mill was forlorn and derelict," he added.
"It was sad to see Crumlin Road jail too which was designed by Sir Charles Lanyon.
"I was impressed by Armagh, Archbishop Richard Robinson tried to create public buildings of great ambition and great buildings survive, it is a beautiful town with a sacred quality.
"I had not been there for years and for me it was fascinating how wonderful a place it is."
Dan Cruickshank's Written in Stone begins on BBC One Northern Ireland on Sunday 24 February 2013 at 18:05 GMT.