Dentist told cancer patient she 'had plumbing problems'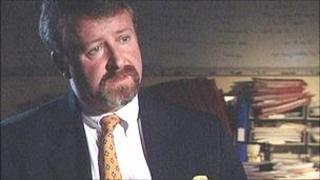 A consultant dentist told a patient suffering from cancer she had "plumbing problems" caused by blocked glands, a disciplinary hearing has heard.
Professor Philip Lamey of Belfast's Royal Victoria Hospital, is accused of fobbing off the woman's concerns about swelling in her face.
The condition turned out to be non-Hodgkin's lymphoma.
The oral medicine consultant faces 46 counts of malpractice before a General Dental Council hearing in London.
The woman, referred to as Patient One, first noticed the swelling in late 2008, but claimed several appointments to investigate were not scheduled as promised.
A statement read on the woman's behalf by David Bradly, for the General Dental Council, said the woman began seeing Prof Lamey in 2008.
She said she noticed painless swelling on the left side of her face shortly before a routine appointment in December 2008.
Swollen gland
The woman claimed she was told by Prof Lamey she would need a test called a sialogram for swelling of her left parotid gland.
However, the appointment that he said had been booked for the test failed to materialise, the hearing was told.
Patient One was left in the dark over the Christmas holiday and did not receive an appointment date until the end of January 2009.
Having attended that appointment, only for the procedure to be unsuccessful, the woman claims Prof Lamey then told her she would need a dye test, without any explanation of what that was.
She alleged that the appointment for the dye test also failed to appear, and that she queried this during her next routine appointment in March 2009.
By then the swelling "was getting bigger and was feeling hot," she said.
An appointment for the dye test was eventually scheduled for May 6th 2009, only for Professor Lamey to perform the same sialogram test that had failed to work earlier in the year, it was claimed.
Having raised her concerns with the dentist, Patient One said: "Professor Lamey was very abrupt and said that I needed a dye test.
'Not approachable'
"I did not understand what a dye test was and I was not given any explanation by Professor Lamey. I did not find Professor Lamey to be an approachable man and I did not feel that I could ask any questions."
"When Prof Lamey could not carry out the sialogram test properly, he told me that it was because I had blocked glands and that I had a plumbing problem.
"I received no more explanation than that, but I trusted that Prof Lamey would know what was wrong with me."
However, the woman claims the continued swelling had become "much bigger," preventing her from sleeping on her left side.
"My sister-in-law was dying of cancer at this time and I remember thinking, 'I hope that isn't what I have'."
In June 2009 the woman tried repeatedly to ring the hospital after the swelling continued to grow and affect her hearing, it was said.
She claimed to have told Prof Lamey about her concerns, but claims he failed to return her "anxious calls."
Fear of missing a call and self-consciousness about her swollen face left the woman reluctant to leave her house, the hearing was told.
Patient One said she was so despairing about the lack of contact that she wrote a letter to the dental school setting out her concerns in early July 2009 which was only acknowledged a month and a half later.
"I felt helpless at this point and could not understand why I could not find someone to help me.
"I felt that I had been lost in the system and I lost my confidence in Prof Lamey."
Later that month the woman was x-rayed, before having biopsies performed on the swelling in August and September 2009..
A week after the second biopsy, she said, she received bad news.
"I was given the diagnosis of high-grade non-Hodgkin's lymphoma.
'Earlier diagnosis'
"It was explained that I would have to undergo chemotherapy and radiotherapy. I also had to undergo a bone marrow biopsy to see if the cancer had spread."
The woman said she remembered asking a doctor if receiving an earlier diagnosis would have helped her.
"I was told that it was true of any cancer that it is better if it is found earlier. I found his reply very worrying indeed as my symptoms had been there for some time and had not been dealt with properly."
Patient one underwent intensive chemotherapy and radiotherapy from October 2009, and was twice hospitalised as the treatment took its toll.
She eventually concluded her treatment in May 2010 and said she was in "quite a bad way" having lost weight and the ability to eat following the radiotherapy.
Prof Lamey denies the case against him.
The hearing continues.