Fermanagh young people 'educated for export'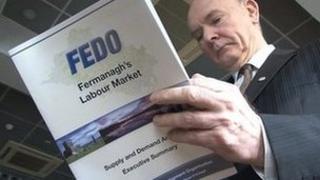 A new study is concerned that young people in County Fermanagh are being educated for export because of a lack of local job opportunities when they leave school or university.
That is one of the findings of a survey into the labour market in the county.
It was carried out by the Fermanagh Economic Development Organisation.
It also found a gloomy outlook by businesses in the construction industry in the area compared to future prospects for manufacturing.
Peter Quinn who headed the research team said: "The research identified how heavily dependent Fermanagh's economy is on a very small number of reasonably large businesses; it has a comparatively large number of small businesses and the greatest challenge now facing Fermanagh's economy is how to convert more of those small businesses into larger ones.
"The survey indicated that the production/manufacturing sector is, by far, the one which is most bullish about the future; by comparison, the construction sector is extremely negative about its future.
"Overall, the tone of the responses received from the larger employers was negative.
"As a result, the overall conclusion from this part of this study has to be that, in the absence of a more appropriate economic policy, there will be continued 'emigration' of highly qualified people, from Fermanagh, for the foreseeable future."
He added: "The reality is that we are educating our young people for export; meanwhile, there are large numbers of older, skilled workers who are unable to find employment locally."