Belfast Trust admits hospital asbestos charges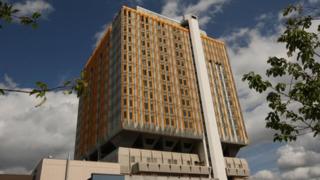 The Belfast Trust has pleaded guilty to failing to ensure the safety of staff at Belfast City Hospital in an incident linked to asbestos.
It also admitted failing to tell sub-contractors about the presence of asbestos before they started work at the hospital last January, and to failing to manage the risk.
At Belfast Crown Court on Friday, a trust representative pleaded guilty to three charges under health and safety legislation.
A fourth was not proceeded with. The trust will be sentenced next month.
In a statement, the trust said it "continues to manage remaining asbestos safely so as to not to pose any risk to patients, staff or visitors using our buildings".
It said its priority was "to ensure that any potential exposure risk is alleviated".