Health department pays private healthcare firms £130m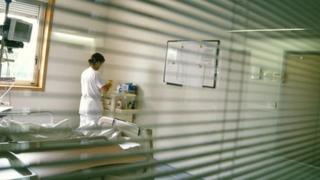 The Northern Ireland department of health has paid private healthcare companies around £130m in the past three years.
One Belfast-based company has received over £44m of that total.
Using private companies allows patients to be seen sooner and means that health trusts meet government targets.
Some argue it benefits patients, who are not left sitting on a waiting list, but others question whether it is the best use of public funds.
A GP whose surgery is based in Dunmurry, County Antrim, says an increasing number of his patients are being referred to the private health sector.
'Raw deal'
Dr Tim Russell said he cannot understand why some are having to travel to Mullingar, County Westmeath, in the Irish Republic, to have routine surgery.
"I have a 91-year-old patient who has been referred to a private clinic in Westmeath," he said.
"She's due routine surgery. I don't understand why she can't have it done in a local hospital.
"The only reason I can think of is she may be seen quicker and it will make the figures look better."
Dr Russell says some of his patients are getting a raw deal.
"In my experience patients are increasingly being sent to far flung places right across the province, including down south and in some cases they can't be treated by the private sector so they are sent back to the NHS.
"All of which makes their waiting time even longer. We call it patients being lost in a blind loop."
The BBC can reveal that 3fivetwo, a private company in Belfast, has earned over £44m.
Each of the five local health trusts is using the company to reduce waiting lists.
In a statement, the 3fivetwo group which includes Kingsbridge Private Hospital, Cosmetech and Origin Fertility Care, said it was unable to provide a breakdown of just how much of its income has come from the NHS.
"That breakdown is commercially confidential information.
"3fivetwo is a private organisation with many business components comprising medical and surgical clinics.
"We also tender for NHS contracts which we have delivered successfully over the last six years."
Capacity
The NHS and the independent sector have always run parallel with a particular emphasis on cardiac patients being seen privately.
However, according to GPs, they are finding patients are also being sent away for less serious procedures.
Between 2010 and 2011, the Belfast health trust spent more than £14.5m on sending patients to private clinics. Among the specialities are ophthalmology, urology, dermatology and orthopaedics.
In statements, each of the health trusts said they use the independent sector when authorised by the Health and Social Care Board, to enable patients to be assessed and treated within agreed waiting times, when the number of patients waiting exceeds the trust's clinical capacity to see and treat.
However, despite the threat of financial penalties, none of the health trusts has been fined.
The Health and Social Care Board says it is committed to ensuring that all patients get timely access to safe and high quality care and that services are delivered in the most cost effective way possible.
The board says a significant reduction in waiting times has been achieved through a combination of improved performance and waiting list management within trusts, which includes using the private sector.
It says that use of the independent sector represents 0.4% of the total acute spend (acute covers all spending on hospital services with the exceptions of maternity, care of the elderly, mental health and learning disability).
In 2012/13, the board said it plans to spend £57.8m on care in the independent sector. This compares to £52.2m in 2011/12.
Kingsbridge private hospital, which is part of the 3fivetwo group, opened on the Lisburn Road in 2011. It's a five-star private hospital housing state of the art technology. The group confirmed that a majority of its consultants also work in the NHS.
The British Medical Association says it is regrettable that consultants can't work to see more patients within the NHS instead of seeing them privately elsewhere.
The chairman of the BMA's NI council, Dr Paul Darragh, said: "If there is a recurring need and a demand for a particular service whether it be knees, hips, eyes, or in dermatology - then there needs to be the clinical staff and the personnel to meet this need within the NHS.
Commitments
"Why not invest that money in the NHS instead? It's all about ticking boxes and meeting targets."
Dr Darragh said it would be beneficial if the money that is going to the independent sector funded more NHS consultant posts.
"It makes more sense for the health service to make long-term plans and fund consultant posts to work in the hospitals. That means trusts can plan for the long term instead of short- term bursts. "
The 3fivetwo group said that most of its consultants are also employed by the NHS but that they can only work in the private sector after fulfilling their NHS commitments.
"All NHS consultants have NHS contracts with stipulated working hours and annually agreed job plans," said a spokesman for the group.
"Consultants are free to perform private and independent work outside these hours as long as they have fulfilled their NHS commitments."
Since 2009, £145m has also been spent on filling temporary doctor and consultant posts.