Derry man Anthony Friel admits pipe bomb charges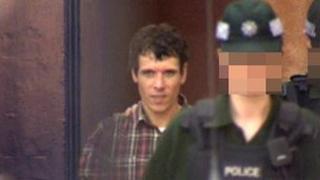 A Londonderry man has admitted possessing pipe bombs and component parts for pipe bombs.
Anthony Thomas Friel, 31, pleaded guilty to possessing the explosive devices and component parts with intent to endanger life on 21 May 2011.
Friel, from Gartan Square, is to be sentenced in April.
The bombs and bomb parts were uncovered in a flat on Maureen Avenue in Derry after police stopped Friel's taxi and found keys to the flat.
Friel also pleaded guilty to a charge of possessing for a terrorist purpose an eye shield and visor, a mini rotary tool kit, drill bits, a heat gun, various tools and electrical material, berets, worksuits, gloves, plastic boxes, Bentley electronic timer instructions, batteries and duct tape on the same date.
A police officer told the court in a previous hearing that she believed the flat was used for the storage and manufacture of the explosive devices, adding that it was devoid of the usual items one would find in a lived-in property such as a bed, food and other personal effects.
Following the guilty pleas Friel was remanded back into custody by Belfast Crown Court Judge David McFarland.