Flag protests at separate Belfast locations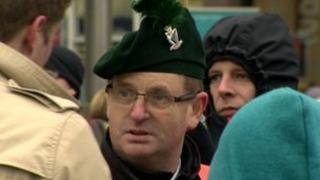 An Orange Order parade to commemorate two UDR soldiers who were murdered by the IRA in Belfast in 1988 has taken place in Belfast city centre.
The parade led to calls for the weekly loyalist flags protest at the City Hall to switch to police HQ at Knock.
However, some protestors made their way to each location.
The march in memory of Privates James Cummings and Fred Starrett made its way from east Belfast to Royal Avenue where they were killed in a bomb attack.
One of the flag protest leaders, Jamie Bryson, joined between 20 and 30 protesters at police headquarters while another, Willie Frazer, was among a crowd of about 100 who picketed the City Hall.