Belfast International Airport sale 'not ruled out'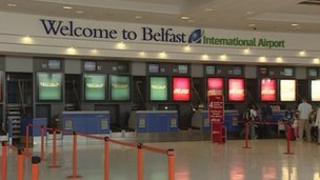 The Spanish company that owns Belfast International Airport has not ruled out putting it up for sale as part of a review of its airport division.
The airport is owned by the Abertis Group, which is based in Barcelona.
A spokesman for Abertis denied press reports that the airport has already been put on the market, adding that no decision had been taken as yet.
However, he said that a potential sale could be an option, depending on the outcome of the ongoing review.
The spokesman said Abertis has already appointed firms to help it assess the future of its airport division.
The Spanish company currently owns three airports, including Belfast International and Cardiff Airport.
It has stakes in or holds contracts with a further 26, including several in the USA and South America.
In addition to its airports, the Abertis Group also has international interests in telecommunications infrastructure and toll roads.
Belfast International Airport can trace its aviation history back to the First World War, when Aldergrove in Country Antrim was selected as a military training base for the Royal Flying Corps.
Northern Ireland's first, regular civil aviation service began at Aldergrove in 1933.
Fifty years later, the facility was officially branded as Belfast International Airport.
It was privatised in July 1994 and two years after that, the Belfast business was bought by the British airport group, tbi.
In 2011, Belfast International carried more than four million passengers.