For Ulster and God - the rugby men passionate about faith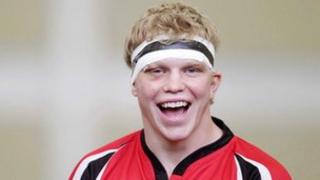 They play for Ulster and God.
Many members of the Ulster rugby team are as passionate about their faith as they are about the white and red jersey.
When it comes to Chrisitanity they are always on the front foot.
On Monday, team captain Johann Muller, Ruan Pienaar and Paul Marshall will address a congregation at Ballynahinch Baptist Church - the home church of their former team mate and friend, Nevin Spence who died last year.
He was killed along with his brother Graham and father Noel in a slurry tank accident at the family farm near Hillsborough in September 2012.
He played centre for Ulster and represented Ireland in a game against the Barbarians last May. His future looked bright.
On Monday evening, Pastor Rodney Stout will also chat to Shane Logan, chief executive of Ulster Rugby, about his faith, his career and about the death of Nevin and its impact on the club.
The event is one of a series organised by VCVM, Christian Vision for Men - a UK group aimed at engaging men with their Christian faith.
"We have looked at the decline of men from UK churches and we decided that if men do not want to go to church, the the church needs to go to the men," said CVM director Gareth 'Spud' Murphy.
"We are preparing to host 1,000 men and their children. We want to give them positive role models to look up to.
"Nobody can fail to be inspired by the men of the Ulster club taking a stand for their beliefs."
Monday is the first of nine events to be held across Northern Ireland.
Ulster Rugby receives three or four requests every week from church groups who would like members to come and address an audience.
The CVM talks are a way of reaching a wider audience, bringing together groups from different churches to hear the men's stories.