Life-saving drug not administered by two NI health trusts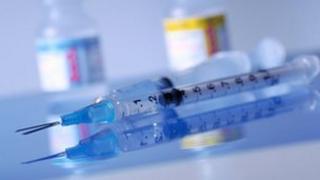 Two of NI's health trusts have not distributed a potentially life-saving drug, despite it being available to them since July 2012.
Naloxone temporarily reverses the effects of heroin overdose, allowing more time for emergency treatment.
The Public Health Agency bought 500 packs of the drug, at a cost of £8,345, and made it available in July 2012.
But neither the Belfast Trust nor the South-Eastern Trust have distributed it to addicts at risk of overdose as yet.
The BBC has learned that in 2011, the latest year for which figures are currently available, 17 people died of a heroin overdose in Northern Ireland.
Naloxone comes in a pack containing the drug in syringes and the packs were supplied by the PHA to local health trusts.
The packs were then to be given out by the trusts to medical professionals, staff from homeless organisations, pharmacists, drug users and their carers.
Victoria Creasy from the PHA said they wanted to get the drug out "all across Northern Ireland".
"We don't want people to take a heroin overdose, but it is there if that happens to save their life."
So far, the Northern Trust has distributed 63 of the 130 packs they received, while both the Western and Southern Trusts have handed out small numbers of Naloxone packs.
The Belfast Trust received 150 packs of the drug, while the South-Eastern Trust received 100 packs.
Neither trust has yet distributed any to addicts or those living or working with them.
However, the Prison Service, in which healthcare is overseen by the South-Eastern Trust, has distributed 35 packs of the drug to prisoners judged to be at risk of overdose on release.
According to the PHA, about 210 people have also received training in how to administer the drug.
Joanne Brannigan sits on the Naloxone steering group, made up of representatives from the PHA, the trust's addiction teams, the Health and Social Care Board and others.
She claims that lives may have been lost because the drug has not been made widely available.
"Naloxone saves lives and it's the most simple drug to use," she said.
"The longer they take to drag their heels with Naloxone the more people are going to die."
In a statement to the BBC, the Belfast Trust said that they had "established a care pathway" and hoped to be able to distribute the drug shortly.
The South-Eastern Trust also provided a statement in which they said that they are about to commence training to enable the drug to be administered and that they anticipate dispensing 25 packs of Naloxone through their Community Addictions Team in March 2013.
They said that, as prison health was "much smaller with different governance arrangements" they were able to implement distribution to prisoners more quickly.