Ecos: Does £10m environmental centre have a sustainable future?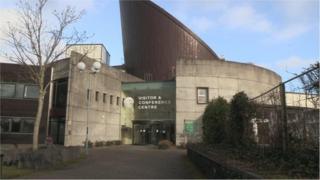 What to do with Ecos? That is the question Ballymena Borough Council has been trying to answer recently.
The environmental centre was built as a millennium project at a cost of £10m.
Its purpose was to educate school children and the public in Northern Ireland about renewable energy and increase awareness of environmental issues.
The Ecos Visitor and Conference Centre boasted state-of-the-art solar panels, a biomass boiler and a reed-bed filtration system.
'Out of date'
Inside the building, there were three galleries with interactive displays and information.
But 13 years on much has changed. The school groups have largely stopped coming and many of the displays are not working or are out of date.
Some of the solar panels have been turned off and the building is now heated by a gas boiler.
One of the three gallery spaces has been converted into meeting rooms and the building is primarily used for office space and conferences.
Aidan Donnelly from Ballymena Borough Council admits the building is no longer used as was first envisaged.
"Certainly, visitors to the galleries have reduced considerably, but we have found that through adapting to the needs of the school curriculum we're able to provide other services such as nature trails."
'Left behind'
He added: "Over the years we have developed the space and we currently have six organisations based here, providing 40 jobs external to Ballymena council."
Mr Donnelly said that the council was left behind as green technology advanced but he said lessons have been learnt.
"An operation such as Ecos requires continued investment as technology moves forward."
DUP MLA and local councillor Paul Frew said it was time for a rethink at Ecos.
"I think the difference here in 13 years is that people are more educated so maybe an education facility isn't needed now.
"I'd like to see specialised jobs here, maybe financial services, maybe blue chip jobs, that sort of thing."
'New enterprises'
So will the education space soon be no more?
The council says it will always retain an information base with respect to the environment at Ecos but it is keen to attract new enterprises to the site.
In order to do that, it may need to alter the building but that might not be straight forward.
Half the cost of the centre was met by the Millennium Commission which imposed a number of restrictions on adapting the building and its surroundings.
The council is now exploring how strict those conditions remain after 13 years.
While the building may no longer attract the public, the surrounding 150 acres of parkland is popular and a man-made lake has now become an established habitat for many species.
Councillor Declan O'Loan said this element of the project has been a success.
"We've got a huge and very fine park here that has been laid out and planted to serve the local community. It is used by hundreds upon hundreds of people who are out here walking regularly in it and it's great to see that."
'Centre of sustainability'
But it is the Ecos building which is now in the spotlight.
Some say it was ahead of its time, others say not enough thought was given to how this centre of sustainability would be sustained.
Whatever the rights and wrongs, council officials are now investing thousands of pounds in an attempt to make Ecos serve the borough better.
The success of their efforts in the current economic climate remains to be seen.