Could first-time buyers kickstart Northern Ireland housing market?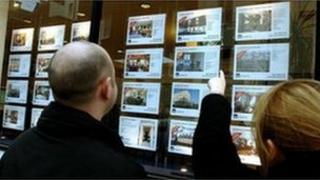 There was a time not so long ago when they were a rarer sight than a movie starlet rocking up to the Oscars in a frock from a high street store. But, rather like a blockbuster sequel, it seems 2012 saw the Return Of The First-Time Buyer.
The script may not be quite that dramatic but, with the level of people buying their first home reaching a five-year high in Northern Ireland, it is a heartwarming storyline for those seeking better times for the battered property market.
It has been a bit of a horror show in recent years, with house prices in Northern Ireland falling 56% from their 2007 peak.
It really was a property crash like no other.
But then prices had risen with equally staggering rapidity during the boom - doubling in two years from 2005.
Any normally-functioning property market requires first-time buyers - those people prepared to get in at the bottom of the chain and allow others who already own property to sell and move on.
Unsustainable
The fact that these first-timers are returning in greater numbers will give some cause for cheer to those seeking an upturn, or at least stabilisation, in property prices.
The number of first-time buyers last year, according to the Council of Mortgage Lenders, was 5,100, up by 400, or nearly 9%, on the previous year.
This increasing activity is also reflected in the property index produced by the government. It shows the last quarter of 2012 as having the highest number of transactions since the same quarter in 2007.
Sales remain 68% below their unsustainable peak, but are now 43% above the low of 2009. In hard cash terms, however, the market is a remarkable 82% below its peak.
The fall in prices and the return of first-time buyers are not unconnected. Affordability is a key issue.
With prices now low enough, first-timers don't need to borrow as much to buy a home: 2.89 times their income - and that compares to an average of 3.26 across the UK.
The downside, however, is that more prudent lending by the banks means that the average deposit required is now 20% of the house value.
Mortgages of 100% of a property's value are a thing of the past. First-time buyers in Northern Ireland are on average saving around £17,000 as a deposit to buy a house worth around £85,000.
Struggle
Interestingly, on face value, the figures from the Council of Mortgage Lenders suggest incomes of first-timer buyers in Northern Ireland have declined by almost one third since the peak.
If it really is true that median average income has dropped from £34,290 at the end of 2007 to £23,604 at the end of last year, then that underlines how tough it is for first-time buyers to gather the cash needed to make the leap on to the housing ladder.
Of course, it is reasonable to speculate that the income figures declared at the peak may not have been wholly honest - as buyers struggled to borrow the larger sums required at the time and may have exaggerated the level of their earnings in order to claim one of the bigger mortgages on offer.
A return of the first-time buyers can be seen as a signal that the property market is beginning to turn around.
But the ills of the local property market cannot be solved by first-time buyers alone.
Recovery will take a long time and no-one should expect, nor seek, the kind of increase in prices we experienced during the boom years.
And although first-time buyers are at a five-year high, this is from a very low base. Last year, there were 5,100 first-time buyers. In 2001 there were 18,300. There is still a long way to go.