Sinn Fein gives evidence to Westminster committee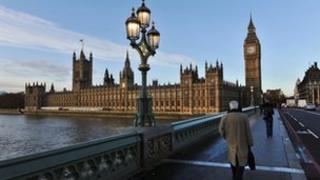 Sinn Fein has given its first public evidence to the Westminster Northern Ireland Affairs Committee at Stormont - and has said it would consider doing the same in the House of Commons.
But the party stressed it had no plans to take up its seats in Westminster.
The party has four MPs but has a long-standing abstentionist policy.
Sinn Fein's Raymond McCartney said this would continue even if voters in a future border poll maintained Northern Ireland's status within the UK.
The committee was taking evidence on the Northern Ireland Office's draft bill on changes to the political system.
Sinn Fein called for all donations to political parties to be published, but the committee heard opposition to such a move from the DUP, the Ulster Unionists and the SDLP.
Former Ulster Unionist leader Tom Elliott told MPs some businesses had asked them not to send thank-you letters to their company premises because they were fearful that the fact they had donated to the party would leak out.
SDLP leader Alasdair McDonnell said transparency was wonderful in principle "when we reach the promised land", but the threat from people with guns remained very real.
DUP leader and First Minister Peter Robinson argued that it was not worth "having someone killed or injured" to remove the perception - which he challenged - that political donors get special favours.
On other matters, the DUP leader argued strongly for a one year extension to the current Assembly term. He said fixing the election for 2016 would avoid a clash with the next Westminster election and bring Northern Ireland into line with Scotland and Wales.
The idea is supported by the DUP, Sinn Fein and Alliance.
Questioned about the need for an opposition at Stormont, the first minister argued there was already a strong well-informed opposition formed by the smaller parties within the executive.
He accused some of those parties of abusing their position in government to leak stories to the press.
On double jobbing, the DUP leader claimed the practice was already on its way out, but "only the SDLP clings to it".
Mr McDonnell, who is an MP on the Northern Ireland Affairs Committee, switched roles to give the committee evidence on behalf of his party.
He told his fellow MPs that in principle the SDLP wished to end double jobbing, but he believed there was a benefit in party leaders having a role at both Stormont and Westminster.
The independent unionist MLA David McClarty told MPs that the sooner Stormont had a formal opposition, the better.
The Northern Ireland Affairs Committee held two sessions at Stormont. On Monday, MPs took evidence from Alliance, the Greens, the TUV and UKIP.