Garda Adrian Donohoe shot by 'one person'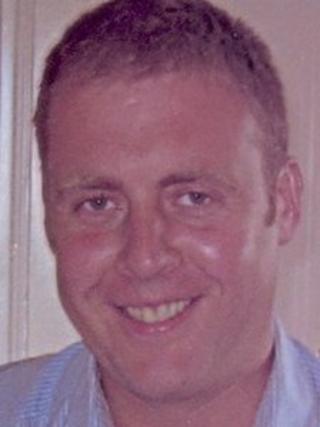 Irish police investigating the murder of a detective believe while several people were involved in the incident, only one fired the fatal shot.
Detective Adrian Donohoe was shot dead during a robbery at a credit union in Bellurgan, near Dundalk, on 25 January.
A Garda spokesperson said in excess of 2,300 lines of inquiry have been examined and more than 800 people have been interviewed so far.
Assistant Commissioner Kieran Kenny has renewed an appeal for information.
"On the night of the murder in the car park in Lordship Credit Union there were at least five people involved in the incident," he said.
"One person fired the fatal shot that killed Adrian Donohoe.
"There are people out there who have knowledge of Adrian's murder and I would ask them to reflect on the impact that Adrian's death has had on the family, the Garda Síochána and the community where he lived and where he served."
Det Donohue, who was married with two children, was shot without warning by the gang.
Police believe that after the shooting the gang travelled into Northern Ireland in a stolen blue Volkswagen Passat car.
It was found abandoned and burnt out in Fews Forest, outside Newtownhamilton in County Armagh.
Detectives are also appealing for information about a child's car seat and a hammer which they believe could help trace the gang.
The Cosatto child's car seat was in the vehicle when it was stolen, but according to detectives it had been removed before the robbery.
Gardai are forensically examining a hammer which they believe was used by one of the gang and said they were "anxious" to speak to anyone with information about it.
Det Garda Donohue was the first member of the force to be shot dead on duty since the murder of Det Garda Jerry McCabe in 1996.
The 41-year-old was given a state funeral in Dundalk, which was attended by thousands of people, including leading politicians from both sides of the Irish border.