Boss jailed for dangerous driving after crash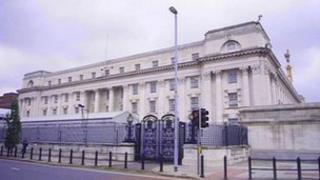 A finance company boss, who permanently disabled a pensioner by driving dangerously, was treated too leniently, the Court of Appeal has ruled.
Michael Berry, of the The Priory, Ballyclare, Co Antrim, injured the 68-year-old woman in a crash in May 2010.
He had avoided jail in the original court case, amid fears that it could put staff jobs at his company at risk.
However, the Court of Appeal overturned that decision and ruled that Berry must serve 12 months behind bars.
The 49-year-old must now present himself at Maghaberry prison by Thursday to begin his jail term.
Coma
During the original trial at Antrim Crown Court last year, Berry was given a suspended 18-month sentence and fined £50,000 for causing grievous bodily injury by dangerous driving.
The company director was behind the wheel of a car that pulled into the path of Ford Focus on the Moorfields Road, near Ballymena in May 2010.
The woman, who was a passenger in the Ford Focus, was left in a coma for two weeks after the collision and sustained a number of fractures.
She spent four months in hospital and now needs crutches to walk.
Her husband, who was driving the car she was in, sustained a fractured sternum, cracked ribs and bruising.
'Inexplicable'
The Director of Public Prosecutions, Barra McGrory QC, appealed the original suspended sentence, arguing that it was unduly lenient.
At the Court of Appeal on Monday, Lord Chief Justice Sir Declan Morgan described Berry's claim that he did not see the oncoming car as "inexplicable".
The judge said his failure to assess oncoming traffic before completing his manoeuvre represented a highly culpable piece of driving.
During Berry's trial it was disclosed that he is the director of a financial services company with expertise in pensions.
It was claimed that the loss of any income as a result of him being sent to jail could put the company and 17 jobs at risk.
If the firm failed, other directors could have their homes repossessed, the judge was told.
Wrong
In those exceptional circumstances the original judge decided to impose a £50,000 fine rather than order immediate custody.
But Sir Declan, sitting with Lord Justice Higgins and Mr Justice McCloskey in the Court of Appeal, held that the financial penalty decision was wrong in principle.
He pointed out harm will often be caused to the family and work colleagues depending on an offender facing imprisonment.
Sir Declan said: "We do not consider that those who run businesses can avoid the consequences of their actions where highly culpable driving causes death or serious injury to others.
"In our view there were no circumstances justifying the exceptional course of suspending the sentence of imprisonment in this case and accordingly we consider that the sentence was unduly lenient."
Driving ban
The court ruled that a 12-month prison sentence should be substituted for the suspended term and fine.
A five-year driving ban which also formed part of the original sentence was left untouched.
Sir Declan ruled: "The offender should present himself at Maghaberry prison by 10am on February 28, 2013 to commence serving his sentence."