Dentist Philip Lamey accused of 'gambling with people's lives"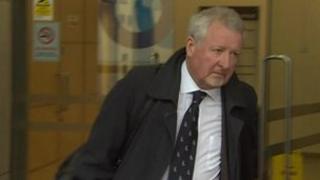 A dentist facing a misconduct hearing after allegedly missing cases of cancer has been accused of "playing a gambling game with people's lives".
The claim was made by dental expert Dr Stephen Layton at an ongoing General Dental Council (GDC) hearing in London.
It is investigating the conduct of Prof Philip Lamey after four patients died and 15 experienced delays in their diagnosis after being treated at the Royal Victoria Hospital in Belfast.
He denies 43 malpractice counts.
Prof Lamey faces claims relating to 33 patients and could be struck off if found guilty by the GDC.
The hearing was told that one woman, known as "patient three", had cancer symptoms for weeks but Prof Lamey initially diagnosed it as a traumatic ulcer.
He prescribed iron supplements to the 78-year-old, but eventually made a late diagnosis of squamous cell carcinoma (SCC) - a type of skin cancer - which "would not be healed by iron supplements".
Dental specialist and expert witness Dr Stephen Layton said: "Trauma should have been identified and in this case it wasn't.
"If an ulcer hasn't healed then it is, until otherwise proved, cancer," he said.
'Gambling'
"I don't think any reasonable practitioner would have waited longer than a few weeks without a biopsy on a non-healing ulcer.
"It's playing a gambling game with people's lives."
The GDC also heard that a woman known as "patient two" was not offered a biopsy despite having a non-healing ulcer with a red halo in her mouth.
The dentist claims he did not have the facilities at his private Saturday clinic to offer the service.
However, the woman then faced further delays after she was taken out of the system and referred back to her GP. She was eventually diagnosed with cancer a month later.
"My criticism is that protocol was not followed. We are here to serve patient's best interests whatever the situation," said Dr Layton.
"If an ulcer is still there after several weeks it needs histology. That's my view, and I don't think any reasonable practitioner or responsibility governing body would disagree with that."
Later on Thursday, the panel heard claims that a patient with cancer almost had to have her tongue cut out because early signs of the disease were not spotted.
"Patient five" had a 4 cm long tumour in March 2007, which Prof Lamey should have diagnosed months earlier, Dr Layton claimed.
He said it was "substantial by anyone's reckoning," and required radiotherapy. Despite only a 25% survival rate, the patient is now well.
Fiona Neale, representing Prof Lamey, told the hearing that there was a point when surgeons had wanted to cut the woman's tongue out to improve her chances of survival.
In his notes, Professor Lamey had recorded that the woman did not "show any dependable evidence of oral cancer". Months later she was diagnosed with cancer.
Dr Layton told the inquiry: "I believe the tumour manifested itself from certainly early 2007, if not before. It would have been clinically apparent for some time."
The dentist's barrister suggested the tumour was much smaller than claimed, arguing that only 25% of sufferers survived more than five years.
Dr Layton replied: "It is totally inappropriate to say that because this patient is alive, it implies that is evidence that supports the view this tumour was smaller."
He claimed the professor's failure to take a biopsy earlier fell below expected standards of care.
"It's reasonable to expect her condition to have been picked up, if not at the beginning, certainly at the stages of warning signs that this required a biopsy," he said.