NI medicine students caught up in test blunder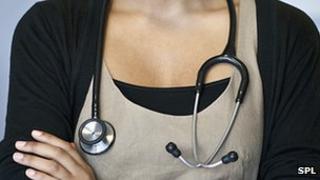 Hundreds of Northern Ireland's medical students have been affected by an exams body's decision to rescind the results of a hospital placement test.
The UK Foundation Programme Office (UKFPO) withdrew all offers due to flaws in the scoring system.
The test gauged the performance of final year students.
Around 250 final year Queen's University students, and others studying in England, Wales and Scotland have been affected.
More than 7,000 students have been affected across the UK.
This is the first year the Situational Judgement Test was formally used to gauge the performance of the final year students as they applied for two year placements in hospitals, the next stage of their training.
It is understood this was a new test but that it had been piloted in the past.
On Monday, some medical students were celebrating that they had scored so highly they had been allocated their first choice placements, while others were distraught that they had failed to get a placement.
By Tuesday all that had changed, there had been queries about the accuracy of the results and UKFPO rescinded all the scores and all the decisions.
Verification
They said the electronic marking of the multiple choice papers was faulty and have asked each medical school to manually remark all the papers by its students.
That process of verification will take almost two weeks and there could be winners and losers in the final shake down.
Students have wondered why the problem was not detected in advance of the results being issued and they suspect it was only highlighted when universities and families noticed anomalies in the scores and results.
One parent of a high flying A grade student said her daughter was totally distraught when she heard she had failed to get the marks needed for a placement in Northern Ireland.
That mother feared her child was now very vulnerable and may even be suicidal.
Another Northern Ireland parent, whose daughter is studying in Wales, was delighted she was allocated a placement in Northern Ireland.
Now that decision has been revoked and the family is hoping the favourable decision will be upheld.
This new test was supposed to be designed to make the process of allocation fairer and more effective.
For some students, this period of disappointment and uncertainty coincides with their final exams.
They said that was distressing enough without this issue.
The UKFPO said the process of remarking and verification will be completed by 09:00 GMT on 8 March.