Kevin McDaid murder witness has home security restored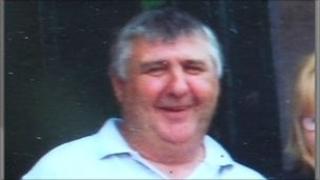 A key witness to events surrounding the death of a Catholic community worker is to be put back onto a home security scheme, the High Court has been told.
Peter Neill, from Coleraine, County Londonderry, launched a legal challenge when the Northern Ireland Office took him off the scheme.
The 44-year-old is due to be a witness at the trial of men accused of offences related to the killing of Kevin McDaid.
Mr Neill will now have increased home protection.
This will include bullet-proof windows and doors at his home.
Mr McDaid, a 49-year-old father of four, was attacked by a loyalist mob just yards from his home in the Heights area of Coleraine in May 2009.
The confirmation on Thursday brought an end to Mr Neil's legal challenge to a decision by the Northern Ireland Office (NIO) to take him off the scheme.
Judicial review proceedings were launched after the NIO decided the risk against Mr Neill had reduced.
He was also assessed to be under no threat from dissident republicans.
On that basis he was removed from the home security scheme which involves reinforced doors, windows and cameras being installed.
Resolution
His lawyers challenged the move, arguing there was no evidence of a reduced risk and questioning the relevance of dissident republicans.
Following an adjournment for reconsideration of the assessment a judge was told on Thursday that a resolution has been reached.
Mr Neill's barrister, Leona Askin, said: "The respondent has agreed to admit the applicant to the scheme. That process is underway."
One of the conditions included in the security arrangements is that he agrees to prevent his home being used for any illegal activity.
During an unsuccessful bid to be awarded legal costs, Ms Askin questioned why dissident republicans were included in the risk assessment.
"That's not relevant to this applicant's case at all," she said.
"What's relevant is the risk from loyalist activity due to his involvement in this case where the defendants are allegedly involved in loyalist activity."
However, Mr Justice Treacy ruled that no order on costs should be made.
Outside the court Mr Neill's solicitor, Pearse MacDermott of McCann and McCann, said he was pleased with the outcome.
But he added: "It's just disappointing that we had to take the matter to court before the Northern Ireland Office saw common sense with regard to the threat against Mr Neill."