Flag protest: Willie Frazer refused bail by judge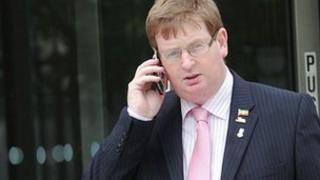 Loyalist campaigner Willie Frazer, who faces six charges linked to the ongoing union flag protests in Belfast, has been refused bail.
Belfast Magistrates Court heard charges included taking part in an unnotified public procession, obstructing traffic and possessing a stun gun.
A judge refused bail to the 53-year-old from Markethill, after being told there was a risk he might might reoffend.
Another loyalist campaigner, Jamie Bryson, was arrested on Thursday.
Police are questioning the 23-year-old on suspicion of public order offences, again linked to the protests.
There have been protests since Belfast City Council voted on 3 December to limit the flying of the union flag from city hall.
In Mr Frazer's hearing, the police objected to bail on the basis that the defendant might encourage more protests in the future. His defence lawyer said Mr Frazer was not before the court for organising parades and that he did not believe he was taking part in any unlawful ones.
Defence barrister Richard Smyth argued that his client had urged the crowd at Belfast City Hall to "keep it peaceful".
Clear record
Mr Smyth insisted: "What this applicant is alleged to have said at the scene wasn't in any way inflammatory."
He also pointed to the accused's clear record and raised issues about his health.
Dealing with the stun gun allegations, the lawyer said Mr Frazer had taken it from people involved in a dispute in Markethill, County Armagh, a number of years ago.
He believed it was a cattle prodder that didn't work, the court heard.
Mr Smyth added: "This man's profile, and I accept he does have a profile, has brought him before the court."
District Judge Mervyn Bates said he was refusing bail based on the more serious charges of encouraging offences and having a prohibited weapon.
He told Mr Frazer: "The grounds of objection are founded on the frequency of this kind of offence at the current time and the harm it is doing to the economy of this country.
"Given everything I have heard about this matter... I do not consider you to be a suitable candidate for bail."
Mr Frazer was told he could apply for bail in the High Court but he declined this option, saying he would "rather stay in jail".
He was remanded in custody to appear again in four weeks time.