University of Ulster: Minister recommends Belfast campus plan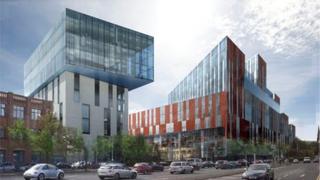 Environment minister Alex Attwood has recommended planning approval for a new University of Ulster campus in Belfast city centre.
Plans for the £250m development, built around the existing campus in York Street, were unveiled last March.
The development is to include three new buildings.
These will be at Frederick Street/York Street, Donegall Street and Great Patrick Street.
There are also plans for a new footbridge and minor works to the existing university building at York Street as well as improvements to York Lane.
Mr Attwood has recommended refusal on an application for a mixed-use development at Frederick Street.
The department of the environment is currently consulting Belfast city council on their opinions on both applications.
When the new campus is in operation it will have about 11,290 full-time students and 1,280 staff.
Mr Attwood said the decision on the campus had not been "easy" and he appreciated "the nature, scale and character" of the proposal had prompted concerns.
He said he was "sympathetic" to the objections of residents living nearby, but felt that on balance the scheme would "contribute positively to the economic, social and cultural vitality of the north and west of the city whilst bringing much needed construction jobs".
"I have taken concerns on board, so I have recommended refusal for the mixed-use scheme at Frederick Street car park," he added.
"I feel that a 487-space multi-storey car park and over 700 sq metres of retail space are too large and would have too great an impact on local residents."
Mr Attwood said he realised there were still issues to be resolved around the proposal, including "the need for balanced development in terms of student and social housing".
"Car parking and potential longer term environmental impacts also need to be addressed," he said.
"However my officials, Belfast city council and other agencies and departments are working closely together to resolve these issues."