Woodrow Wilson: A brief portrait of the 28th President of the United States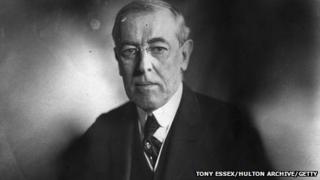 One hundred years ago on 4 March 1913 Thomas Woodrow Wilson, from Staunton in Virginia, was about to begin his term as the 28th president of the United States of America.
Wilson served for two terms as commander in chief and during his presidency oversaw major changes in economic reform, had full control of American entry into World World One. During his second term he helped set up the League of Nations, which shaped the Treaty of Versailles.
He also became the first president to show a film in the White House and is still the only president to have a PhD. His second wife Edith has also been described as the "first female president of the United States" after she took over some of his responsibilities when he suffered a stroke.
Wilson, a Democrat, had quite a meteoric rise. In 1910, he was the president of a small college in New Jersey. Two years later, in 1912, he narrowly beat Republican incumbent William Howard Taft to become president after a split Republican ticket.
During his inaugural address he told the crowds: "This is not a day of triumph; it is a day of dedication. Here muster, not the forces of party, but the forces of humanity. Men's hearts wait upon us; men's lives hang in the balance; men's hopes call upon us to say what we will do. Who shall live up to the great trust? Who dares fail to try? I summon all honest men, all patriotic, all forward-looking men, to my side."
Writing in the New York Times, A Scott Berg, a biographer and the author of the forthcoming book Wilson, believes that President Barack Obama could learn a lot from Woodrow Wilson as he continues to battle with Congress over economic reform.
Shortly after his election Woodrow Wilson went to Congress to put forward his policies.
A Scott Berg wrote: "The man many considered an aloof intellectual explained to congress that the president of the United States is simply 'a human being trying to co-operate with other human beings in a common service'.
"Even when the president became besieged with troubles, both personal and political — the death of his first wife; the outbreak of World War One, an increasingly Republican legislative branch, agonising depression until he married a widow named Edith Bolling Galt — Wilson hammered away at his progressive programme.
"In 1916, he won re-election because, as his campaign slogan put it, 'He kept us out of war'".
A Scott Berg adds that Obama should remember "Wilson and the single factor that determines the country's glorious successes or crushing failures: co-operation."
Ancestry
Like many Americans, Woodrow's ancestry can be traced back to Britain and Ireland. His parental grandparents came from County Tyrone, part of what is now Northern Ireland, while his mother was born in Carlisle in England.
Many American presidents like John F Kennedy, Andrew Jackson, Ronald Reagan and most recently Barack Obama have all been keen to promote their Irish ancestry.
The Wilson House, near Strabane, County Tyrone, was the home of James Wilson, grandfather of the president. The house is now owned by the Ulster American Folk Park and is maintained in its original setting in the townland of Dergalt, outside of Strabane on the Plumbridge Road.
James Wilson was a printer by trade. In 1807 he emigrated to America from the port of Londonderry, landing at Philadelphia. In time he became a prominent newspaperman, working on the Democratic newspaper the Aurora.
James Wilson married Ann Adams in Philadelphia in 1808. She is believed to have come from Sion Mills, County Tyrone. They had ten children, the youngest of whom, Joseph Ruggles, was born in Steubenville in 1822.
He became a Presbyterian minister and married Jessie Woodrow from Carlisle, England. Their third child grew up to become President Woodrow Wilson.
President Wilson often spoke of his Scots-Irish background, claiming with great pride that he had inherited the stern, strongly independent characteristics of the Scottish Covenanters. Speaking at a St Patrick's Day rally in New York in 1909, when he was president of Princeton University, he said: "I myself am happy that there runs in my veins a very considerable strain of Irish blood."
In an article for the Ulster Scots Agency, historian and journalist, Billy Kennedy, writes that Woodrow Wilson actually visited Northern Ireland.
"He visited Ireland in August 1899, taking in both the North and South of the island. He is understood to have made it to Belfast, and the only evidence of his trip is in a letter located amongst his personal papers. This was written on 20 August from the White Horse Inn, Drogheda in County Louth, about 25 miles south of the present Irish border.
"Wilson at the time was professor of jurisprudence and political economy at Princeton University and, apart from academic friends, few in Ireland would have been aroused by his 1899 visit. He knew little about the geography and certainly did not reach north Tyrone to trace his grandfather's roots."
Unlike Woodrow Wilson the president, one Woodrow Wilson did make it back to Tyrone and was even brought up in the family home in Dergalt.
In a BBC documentary about the president, Woodrow Wilson Jr, a retired wholesale grocer, explained what it was like to share the same name as his famous ancestor.
"When I was a boy, my nickname was president," he said. "Nowadays my friends just call me Woody.
"The whole family knew about the link and a book had been written about President Wilson's links with Strabane, but as a child you don't think too much about these things."
"I feel very proud that one of my ancestors was such a great president."