Thousands 'smash' world record in Londonderry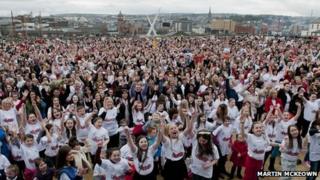 It's a Hard Knock Life in Northern Ireland's City of Culture.
More than 5,400 people are thought to have smashed a world record singing a song from the hit musical, Annie.
Organisers are confident that the thousands at Ebrington Square have set a new record for the largest choreographed song and dance routine ever staged.
Those behind the event had been hoping for more than 4,500 at the venue - but unofficial reports said there were about 1,000 more at the former army barracks.
However, it will be a number of weeks before the Guinness Book of Records can confirm the figures.
The event aimed to raise thousands of pounds Foyle Hospice.
Derry mayor Kevin Campbell said it was a fantastic day.