Newell Stores creating 150 jobs in Coalisland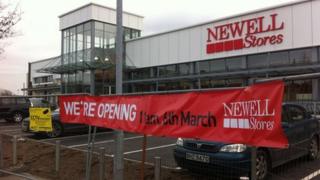 An independent supermarket is creating 150 jobs with the opening of a new store in Coalisland, County Tyrone.
Newell Stores said the 25,000 sq feet supermarket cost £9m and is the largest ever investment in the town.
A further 33 jobs will also be created in their Dungannon store which employs 170 people.
The town centre store will be officially opened on Monday and will open to the public on Wednesday.
The company received more than 3,000 applications for the new positions.
Newell Stores company director Eugene Conway said they employed 400 people mainly from the local area in constructing the new store and they hope the new development will lead to more jobs being created.