Sir George Quigley: Tributes after death of businessman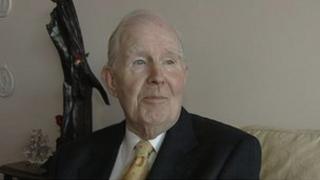 Tributes have been paid to the former businessman and leading civil servant, Sir George Quigley, who has died at the age of 83.
He passed away on Sunday after becoming ill during morning worship at Helen's Bay Presbyterian Church in County Down.
Northern Ireland's first and deputy first ministers have expressed their "profound sadness".
They said his "contribution to public service and the business sector was highly regarded".
Sir George Quigley held several high-profile positions in the civil service in Northern Ireland before embarking on a successful career in the private sector.
In 1988, he joined the Ulster Bank and became its chairman. He was also a director of the Belfast aerospace company, Short Brothers.
'Important role'
Three years ago, Sir George was was one of two independent witnesses who verified the decommissioning of weapons by the loyalist paramilitary group, the Ulster Defence Association (UDA).
He also headed an industrial taskforce seeking a reduction in corporation tax, and was the author of a government report that called for the Northern Ireland Parades Commission to be scrapped and reconstituted.
In a joint statement, First Minister Peter Robinson and Deputy First Minister Martin McGuinness said: "We offer our sincere and heartfelt sympathies to his family, friends and colleagues. We were fortunate to meet Sir George on many occasions."
They said he "played an important role in developing networks" within communities in Northern Ireland in an attempt to achieve a "better understanding of each others' views".
"He was a strong advocate of mutual respect in building a cohesive and equal society," the ministers added.