Sean McCann bankruptcy overturned by NI court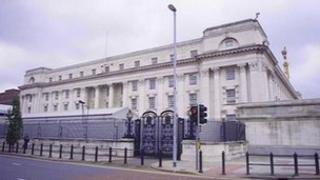 Belfast High Court has overturned the Northern Ireland bankruptcy of a Wicklow-based property developer.
The court ruled against Sean McCann after finding he had not, as claimed, moved his business interests to Northern Ireland.
Mr McCann has debts of more than 7m euros (£6m) in Republic of Ireland but was bankrupted north of the border over £1,400 rent arrears.
Bankruptcy usually lasts one year in NI compared to 12 years in the Republic.
Mr McCann was bankrupted in Belfast in August 2012, prompting a challenge from ACC bank.
'Tenuous link'
The bank had been pursuing him through the Dublin courts over an alleged personal guarantee he gave as director of a Killorglin Investments Ltd on a 5.5m euros (£4.7m) company loan in 2006.
The loan related to a planned development of more than 11 acres of land in Killorglin, County Kerry.
The bank challenged the bankruptcy mainly on the basis that Mr McCann's 'centre of main interests' (COMI) were still in the Republic making him ineligible for a Northern Ireland bankruptcy.
The High Court found that Mr McCann had not moved his business or professional interests to Northern Ireland and had only a "very tenuous link" to the jurisdiction.
It added that there was "no objective evidence" that he had ever lived at the address, in the Botanic area of Belfast, that he claimed was his new home.
The person who presented the petition to bankrupt Mr McCann was also described as at "very least" an acquaintance of his, if not a friend.
'Bankruptcy tourism'
However the bankruptcy was overturned on two procedural grounds: that it was heard on a 'fast track' basis when it should not have been and that full evidence had not been heard from all relevant parties, meaning the court did not have the jurisdiction to make the order.
Mr McCann now faces being made bankrupt in the Republic.
A string of Republic of Ireland businessmen have been made bankrupt in the UK in what has become known as bankruptcy tourism.
They include major property developers of the Celtic Tiger era such as Bernard McNamara.
Sean Quinn, once Ireland's richest man, was bankrupted in Northern Ireland but that was overturned following a challenge from the now defunct Anglo Irish Bank.