Crude but viable bomb found in Newtownabbey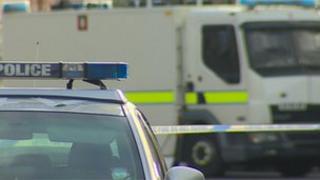 A small bomb has been found during an overnight security alert in Newtownabbey, County Antrim.
It was left on the Doagh Road and police have described it as a "crude but viable explosive device".
Police received a report that a bomb had been left close to a shop on the road at about 02:40 GMT on Monday and the Army was called to the scene.
The alert ended at about 06:20 GMT. A separate overnight bomb alert on the O'Neill Road, Newtownabbey was a hoax.
The hoax alert began at 22:40 GMT on Sunday when police were told that a suspicious object had been left on the roundabout on O'Neill Road.
The operation ended at about 02:00 GMT on Monday, after Army bomb disposal officers had examined the object.
A police spokesman said it was too early to link the two bomb alerts at this stage, but added that all lines of enquiry would be investigated.
They have appealed for anyone with information to come forward.