Dentist Philip Lamey prescribed mouthwash to patient with cancer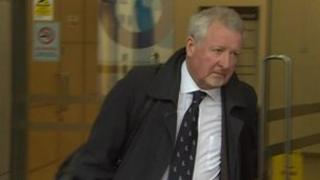 A dentist prescribed mouthwash to a patient who had oral cancer, a misconduct panel has heard.
The man visited Professor Philip Lamey at his practice in Belfast in May 2006 suffering pain in his jaw.
The dentist noted a 'suspicious lesion' but did not do a biopsy that would have detected the disease, it was said.
The patient later had to have a neck dissection and surgeons removed 43 lymph nodes, two of which tested positive for cancer.
Expert witness Dr Stephen Layton said: "This is a man in his early fifties who smokes 40 a day and drinks nine units of alcohol a day.
"With respect, you couldn't invent a better candidate for oral cancer."
'Vulnerable'
He accepted the swollen lymph nodes may have been difficult to spot at his first appointment due to infection.
But the expert added: "It is very helpful when someone's telling you it is there."
Dr Layton told the General Dental Council the ulcer was on the floor of the patient's mouth with is a 'danger area' for smokers.
"This is an area vulnerable to tumours. The professor should have organised a biopsy in May 2006."
He also criticised the professor's note-taking as the exact nature of the patient's condition is not known as he did not make a detailed note of the appointment.
The dentist has been brought before his governing body after 135 patients had to be recalled over fears they might have cancer.
Four patients died and it is alleged 15 were diagnosed with the disease late because of his failings.
The professor denies 46 charges relating to 33 patients he treated at the Royal Victoria Hospital in Belfast.
The hearing in central London continues.