Dentist Philip Lamey failed to do biopsy on high risk patient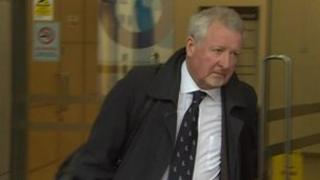 A dentist failed to do a biopsy on a patient at high risk of cancer because she was a smoker, a hearing has heard.
Professor Philip Lamey did not check for pre-cancerous cells when the woman sought treatment from him in 2009.
He diagnosed keratosis, a common condition in smokers where they develop a white patch on the roof of the mouth.
His lawyer Fiona Neale told the General Dental Council the patch had shrunk when the patient returned in 2010 and there were no pre-malignant changes.
She said the woman was told to give up smoking before any further treatment could be given.
But expert witness Dr Stephen Layton told the hearing: "If you wait for a patient to give up smoking, a lot of smokers would be waiting forever.
Suspicions
"He should have used his common sense. A biopsy should have been done in a patient who is a smoker or an ex-smoker.
"I don't think it is safe for patients to not be checked for pre-cancerous cells."
Miss Neale said the expert had presented no literature as evidence to back up his claims and put it to him: 'Because there isn't any, is there?'
The dental specialist replied: "A lot of clinicians would have done a biopsy. You should have the same level of suspicions."
The panel heard the patient, who had smoked for 17 years, continued to smoke 10 cigarettes a day.
Dr Layton said this was even more reason why she should have been biopsied.
He said: "Smoking causes cancer. We know that. Keratosis is caused by smoking, why would you not do a biopsy?"
The patient did not develop cancer and Miss Neale told the panel Prof Lamey's diagnosis was right in this case.
However, Mr Layton said: "He may have been right this time but that can't happen in all cases. I think that degree of confidence is not appropriate. My criticism is that this patient wasn't biopsied, initially."
The dentist has been brought before his governing body after 135 patients had to be recalled over fears they might have cancer.
Four patients died and it is alleged 15 were diagnosed with the disease late because of his failings.
He is also accused of failing to spot tumours in other patients and instead prescribing iron tablets, mouthwash or sugar-free chewing gum.
The professor denies 46 charges relating to 33 patients he treated at the Royal Victoria Hospital in Belfast.
The hearing in central London continues.