SDLP leader Alasdair McDonnell faces questions over MLA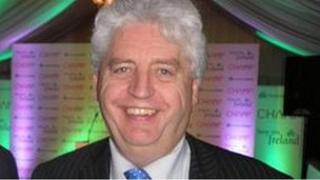 SDLP leader Alasdair McDonnell is facing questions from within his own party over his failure to resolve a conflict of interest involving an MLA.
Foyle assembly member Colum Eastwood was appointed to the environment committee last summer.
It meets every week, but Mr Eastwood has only attended once since the beginning of September.
It is understood he does not attend as he is also assembly private secretary to Environment Minister Alex Attwood.
This gives him access to all ministerial documents and it is understood he believes it is a conflict of interest for him to also sit on a committee scrutinising the minister.
An SDLP spokesperson said Dr McDonnell would "work to ensure there is no conflict of interests between MLAs and their portfolios".
The position of assembly private secretary (APS) was created following the last assembly election in 2011. Each minister in the executive is entitled to appoint one APS from their own party to help them with ministerial business
Mr Eastwood, a former mayor of Derry, became an MLA in 2011 and was chosen as Mr Attwood's APS shortly afterwards.
Just over a year later, he was appointed to the environment committee by party leader, Dr McDonnell.
It is understood that party MLAs made representations to Dr McDonnell pointing out that the appointment to the committee was a conflict of interest because of Mr Eastwood's role as APS.
Despite the concerns, Dr McDonnell put Mr Eastwood on the committee.
It's understood that party MLAs have since raised the issue again with Dr McDonnell but he still has not acted to resolve the situation.
Party sources said that "numbers were thin on the ground" and that Dr McDonnell had difficulty filling all the committee positions open to the party.
Dr McDonnell, who is also an MP, does not currently sit on any Stormont committee.
It has been suggested by party sources that he is planning a reshuffle after Easter that could solve the problem.
Other parties have recognised a potential conflict of interest and ensured that assembly private secretaries don't also sit on the relevant committee.
In a statement, the SDLP said Mr Eastwood had a "heavy workload" as assistant to Mr Attwood "on top of his other assembly and constituency responsibilities".
"The party leader is in the process of reviewing SDLP membership of assembly committees including the committee for the environment and will work to ensure that there is no conflict of interests between MLAs and their portfolios," the statement added.
Mr Eastwood was not available for comment.