Mid-Ulster by-election candidate profiles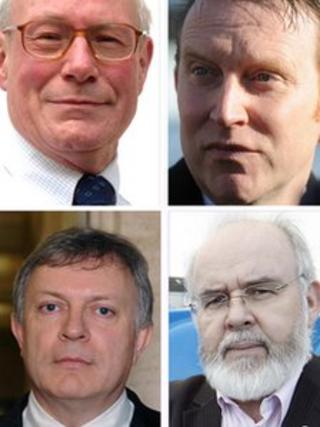 There have not been many Westminster by-elections which have pitted a candidate whose father has been murdered against another who has been accused on the floor of the House of Commons of involvement in that murder.
In human terms you cannot get more highly charged a contest than the one taking place in Mid Ulster.
Curiously, though, it has been a fairly low-key campaign, devoid of high octane rhetoric.
Indeed when the BBC tried to stage a TV debate between the candidates both men linked by these historic allegations declined to take part, leaving the stage open to the remaining two candidates in the field.
The Mid Ulster by-election was triggered by Martin McGuinness's decision to concentrate on his Stormont job as deputy first minister, relinquishing his role as an MP in line with Sinn Fein's commitment to end double jobbing.
Given that Mr McGuinness took more than half the Mid Ulster vote in 2010, his successor as Sinn Fein candidate, Francie Molloy, is the clear front-runner.
But the DUP, the Ulster Unionists and the Traditional Unionists made the contest personal when they decided to unite behind a single agreed candidate, Portadown undertaker Nigel Lutton.
Mr Lutton's father, Eric, was murdered by the IRA back in 1979, and six years ago the DUP Upper Bann MP David Simpson used parliamentary privilege to accuse Francie Molloy of being both a suspect in the murder and an IRA informer.
Mr Molloy strongly denied the allegations at the time and continues to deny them today - challenging the DUP MP to repeat them without the legal privilege afforded by parliament.
The Sinn Fein candidate insists ordinary unionists in Mid Ulster are increasingly using his party's advice centres.
He claims Nigel Lutton is "being used by David Simpson and the DUP to try to create a political agenda. That hasn't happened and I think people have seen through that.
"I think they see it as an abuse of victims not a support for victims."
Besides the IRA murder of his father, newspapers have also reported that Nigel Lutton's uncle Joey was convicted for his part in a number of UVF murders.
However, Mr Lutton plays down his family history, insisting he doesn't want the campaign to become mired in the past.
Mr Lutton told the BBC the loss of his father was "an important part of my background, but I don't want to dwell on the past. I want to see victims become part of the future, not part of the past".
The agreed unionist emphasises that, if elected, he would take his seat at Westminster.
A political novice, Mr Lutton explained that he was persuaded to become a candidate because he favours unionist cooperation.
When asked which of the unionist parties he most strongly favours, the candidate laughed coyly, saying only that he had voted for them all.
Whilst Sinn Fein's Francie Molloy argues that an abstentionist MP can get things done for Mid Ulster by working on the ground and lobbying decision makers, the SDLP's Patsy McGlone - like Mr Lutton - stresses the need for the constituency's MP to take their seat.
Mr McGlone pledges to be an active MP making his voice heard in the Commons.
He said voters are telling him they want a say when issues like corporation tax or welfare reform are up for debate.
"What people are saying," Mr McGlone told the BBC, "is 'I want you to articulate my concerns, I want you to be there to vote for my concerns or vote against whatever proposals are being made by the Tory government'."
Mr McGlone is a well known local MLA, but in 2010 the SDLP was more than 15,000 votes behind Sinn Fein, so closing the gap may be the best he can hope for.
Even further back is Alliance, with just 1% of the vote in the last Westminster election. This time around Alliance's candidate is former headmaster Eric Bullick.
Like his SDLP opponent, Mr Bullick said most people want to talk about the need for job creation.
The candidate has been struck by the number of young people from Mid Ulster being forced to emigrate, recounting how he met one woman "devastated by the fact that all five of her children are now living and working abroad.
"She's wondering when on earth she'll see them again, as they've been forced abroad for work."
As ever in Northern Ireland, the traditional Orange-Green politics co-exists with such harsh economic realities.
Voting in Mid Ulster takes place between 07:00 GMT and 22:00 GMT on Thursday and we should know the winner in the early hours of Friday morning.